Blog - UP your Online Business by Leveraging Animated Graphics and GIFs!!!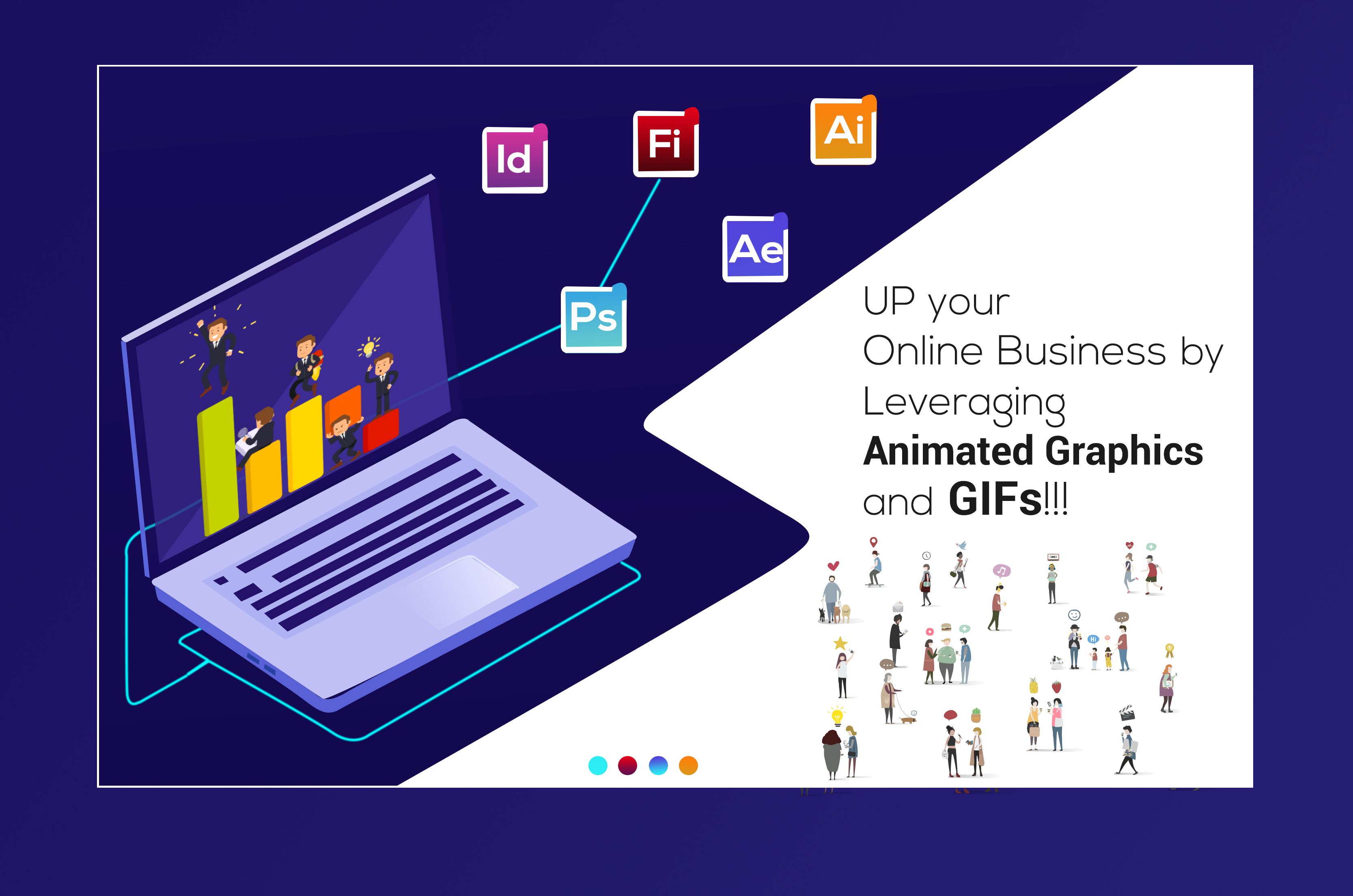 GIFs are extensively used for small animations or as low-resolution video clips. But these days their popularity is growing like a fire. With Internet Marketing becoming a battleground for consumer attention, animated clips and GIFs have left no stone unturned to create a buzz in the world of online business. When the world is busy counting minutes on smartphones, people have lesser time to sift through chunks of enormous text posted on the Web.
Here is why GIFs were quickly embraced by the people all over the world and still continue to flourish on the Internet:
1. They're Appealing and Effective
GIFs have the potential to enhance a brand's message with the visual content. It has been stated that people only remember less than 20% of the plaintext that they read without any visuals. This clearly indicates why visuals shouldn't be avoided for any online marketing campaign.
This brings us to another fact that an online business is incomplete without visuals, like images, videos and animated clips i.e. gifs. And the latter may provide the right encouragement for a user to heed to a brand's message, thus particularly serving as an effective call-to-action.
2. Powerful than Images, simultaneously cheaper than Videos
GIFs are cheaper to create when compared to videos and at the same time more compelling than images. So, GIFs are any time more preferable than both images and videos to UP a brand's placement.
3. They're mobile friendly
As GIFs are of relatively smaller size than videos, uploading them is faster. Also, they last for a few seconds, so they are more compatible to use than other visuals. When it comes to low configuration smartphones having lesser RAM and storage, watching or uploading videos takes the back seat and GIFs becomes the first preference as it facilitates quick upload due to its small size.
4. Can be used on multiple platforms without any hassle
GIFs can be easily used on various social media platforms like Facebook, Twitter, Tumblr, etc. GIFs are popular across all of them and others too. So, users do not face any hard time struggling to use them however and wherever they want to.
5. They're Easy to consume and Promote
GIFs are pretty simple to consume thus making them more attractive to the audience.
Statistics state that more than 100 million GIFs were shared on Twitter in form of tweets and messages last year and the numbers are expected to grow this year. These facts clearly imply that people truly love GIFs as they are an easy and effective channel to send out any message to their friends, family, colleagues, customers or anyone.
6. Boost Engagement
Animated graphics have the capability to represent the exact emotion that a person wants to convey, and thus extending their utility across the globe. Many people use social networking platform to grow their customer base and that is when they tend to interact with their fans and followers. In such cases, GIFs are considered to be the best medium of communication as they can quickly choose to express their emotions through animated gestures.
7. Available in Abundance
There is a huge stock of animated graphics available across the Web. Even though your company or brand lacks the required resources to create them, you can get plenty of GIFs available on the Internet. There is absolutely no shortage. You can mostly buy them in stock from various websites and selling portals. (Here's one).
8. They help you think differently with the content
GIFs help a brand to think outside the box when it comes to content and marketing. They enable you to reimagine things differently, reframe your perspective and think in a new direction. Basically, they let you be different and present yourself in an unexpected different light.
Let us now learn about some creative ways and ideas where you can use these animations that we've just discussed:
Use animations on your websites to make it appalling
Create motion graphics videos
Build 3D Animation Videos
Use them in your email marketing campaigns
Design E-Cards to engage with them on their special occasions or holidays
Create Whiteboard Animations
Design Animated Logos
and much more…
The bottom line is that to enable your users, website visitors, or other potential customers to have a real-time experience of how your products actually look like, animations are the best way to go forward. They are suitable and work out great for any online industry no matter what it is. Visual Demos are something that every person looks forward to before buying a product online…So just give it a go…
Good Luck!