Blog - Most Effective Solutions to Backing Up Your Website Data!!!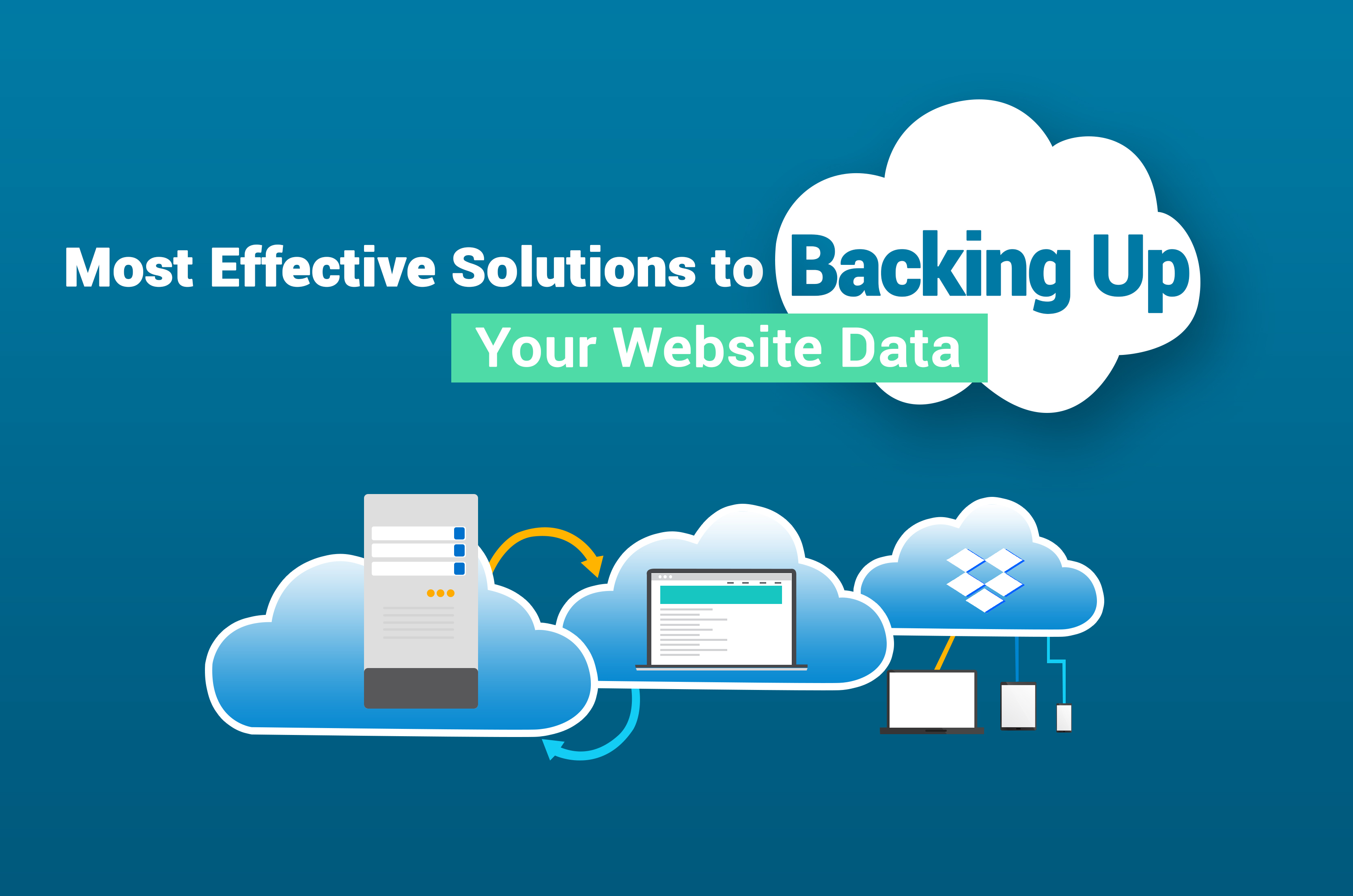 Nothing is more horrifying than you working on a project when all of a sudden your website crashes and you lose all the data, everything! There may be various reasons for a website crash but do not fall victim to it while you do not a backup solution in place.
There are situations where business owners assume that their web hosting services automatically back-up their website but that's not true. Hence, you have to take some other measures to avoid data loss and ensure your data backup.
First, let us understand the common causes of data loss:
1. Crashed servers
Not just computer hardware, but the servers can also crash resulting in corruption of files and other data. In such cases, your website remains in a non-functional state until you re-upload the data and files to a new server. This applies more to your server, not the web-hosting provider.
2. Malware and Virus
Malware and virus come uninvited. They get into your website without any prior notice, anytime. And every website is vulnerable to malware. So it is a must to backup your data to restore the information back on your website.
3. Hackers
These days hackers have become very common on the Web. And most people think that if they are running a small business and own a not-so-functional website, they have no or lesser chances to get attacked by a hacker. But, the hard truth is that not all hackers go searching for the big fish. They go anywhere they think they can find the user's personal (most likely financial) information.
After a website is hacked, you definitely need the backup files to get it UP and Running again.
4. User errors
Mistakes are a part of every project and human errors are the most common in bulky projects. Sometimes, important files (for example, config files) get deleted accidentally which can lead to a serious mess in the operations. But if you are lucky enough to have yourself saved a backup, then you can quickly replace the deleted or missing files.
5. Computer catastrophe
Computers and laptops being electronic machines can also fail at times. They may crash, get lost, or even fall off if you have hard luck. So, if you have a backup of data in a remotely, you do not have to worry about it. Saving your data remotely can help to replace the old information in a new machine without any issues.
6. Wrong Updates
Updates on a website are carried on to enhance the features and improve website security but they do not always go as planned. Sometimes, they can turn your website off for an unexpected time incurring heavy business losses. Thus, it is always recommended to take a backup of all the data and files before doing an update. This is very common in case of WordPress plugin where updates frequently go wrong and the businesses suffer.
Most Common Solutions to Back-Up your Website
Backing up your website's files is not that difficult as it seems. Take a look at some of the common solutions to this:
1. The Web Hosting Service
There are some web hosting providers that provide backup services as an additional option. For example, A2 Hosting provides two options to help manage backups. Not all hosts provide this service, but some of them do. So, in the future, while choosing your web host, you can keep this in mind for better data security.
2. The Web Developer
If you have hired a professional web developer to design your website, then you can ask them to prepare a backup file for yourself. Web developers, in most cases, have complete knowledge of all website parameters and would provide you a back-up in a minimal cost. Make sure you get a complete backup including the database system.
3. The Cloud
You can also schedule automatic backups on cloud storage using backup plugins on your website. These plugins can actually keep your backup files up-to-date on a daily or weekly basis, depending on your requirement. A commonly used cloud-based service is Dropbox which can store huge data. Another most commonly used is Amazon AWS.
Also, if not scheduling it automatically, you can also choose to manually upload the backup files on the cloud service every week, or twice a week, as and how your business demands.
4. The Computer/Machine
You can ask your web developer to provide a ZIP file of your website so that you can save it to your local machine (or hard disk). The best part is that you can do it while simultaneously looking for other options to save your backup. Keeping two sets of backup in two different places is never a bad thing – Just that this one would be an add-on or a savior for you.
Conclusion
Backing Up website is important and should be considered as a standard practice. Amidst this 21st century, there are distractions every minute and people totally forget about taking backups. But damages do happen and later it is only the regret that stays. And if you do not have any backup of your website, your business can go offline, especially if you exist only in the online market.
So, plan ahead, take preventive measures and do take backups!