Blog - Master Your Sales Funnel for Sky-High Conversions!!!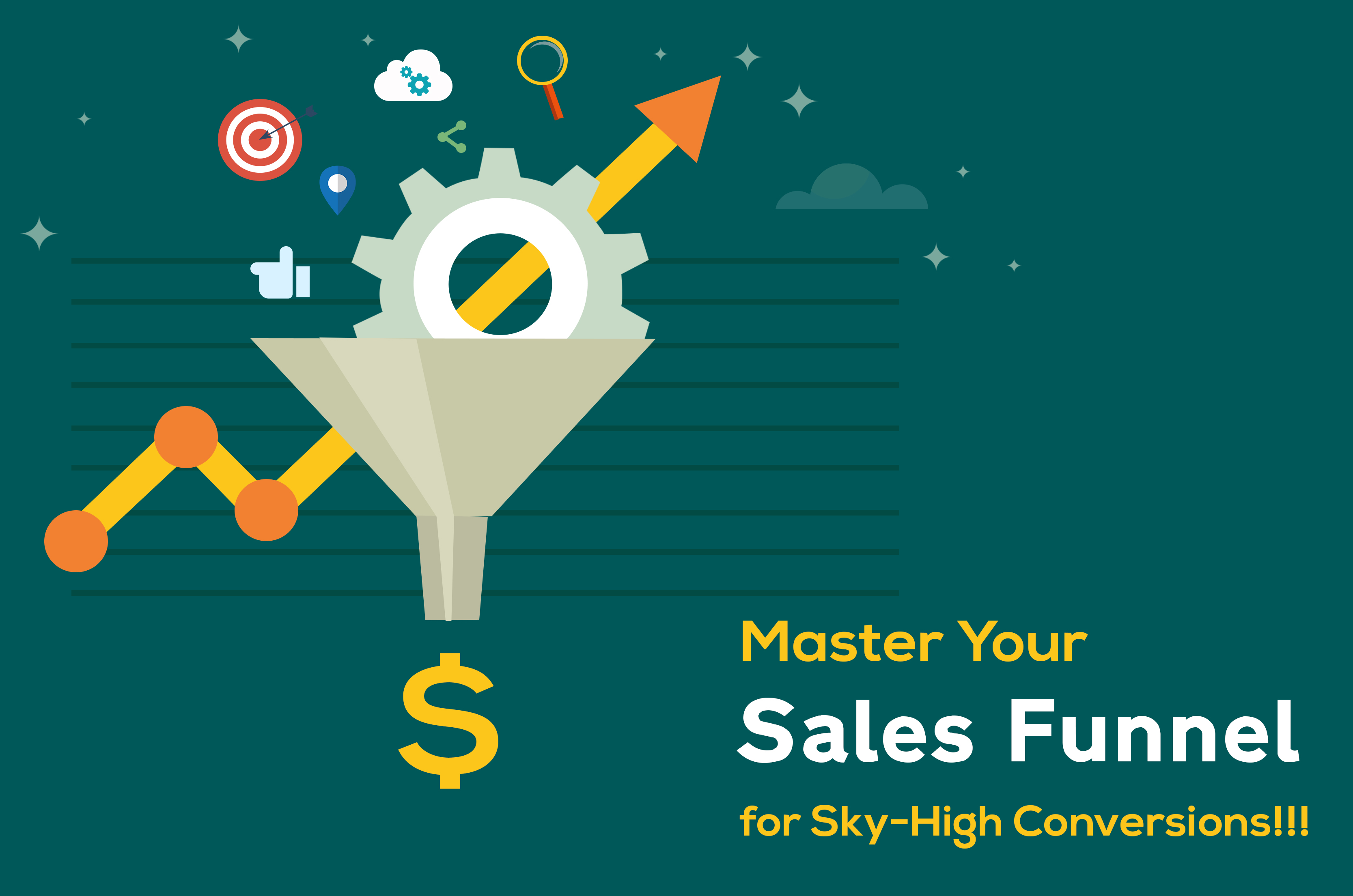 An optimized Sales funnel can help you Bank Bigger. Everything in life has a purpose and for a sales funnel, it is to make money above par. It is a path taken by your prospects through your website resulting in a conversion. There would be a good amount of traffic that would drop-in to your website, but only a small portion of that would convert.
There are various phases that a sales funnel has to undergo to make a finished product and deliver to the customers. But there can be various leaks which should be identified by your team so that a high percentage of the leads convert into loyal customers. The biggest challenge is to identify these leaks and correct them.
To start with, check out the below:
1. Fix your End Goal
To build an effective funnel, you should specifically know about your end goal.
It can be deciding how many fishes you can catch every month to make a considerable profit, the number of clients that you need to land, your conversion rate to make a great deal of profit, etc. All these factors drive your success.
Depending on the above, you should build your funnel. Also, it is important to note that your focus shouldn't be confined to a single funnel; instead, it's ideal to have a separate funnel for each campaign.
2. Focus on the last thing which the leads see before converting
Step yourself in your leads' shoes and evaluate what do you see in a funnel just before you buy a product or a service? In an online business, the last page is mostly the checkout page. But in any funnel, your leads look for something exclusive that creates an urge to land there. You need to ensure that through your sales pages, you convince them enough that they choose you over others.
For Example, you can offer exclusive discounts or free vouchers on the first purchase, but before the placement of these discounts, a careful assessment is necessary. The discount info should be placed on the top-right corner of the page so that they're clearly visible. Or probably highlighted on the static bar towards the bottom while they scroll through.
Ensure that if you're providing a perk, its availed by your customers and they do not miss any chance of getting benefitted.
3. Check the middle of the funnel
The next part is holding a grip on your customers, letting them stick to your webpage. Here, you have to show your credibility and experience to gain the trust of your prospects. Gather sufficient proofs, for example, awards that your business has received, other testimonials from customers that show you're already a great player in the market and have the potential to serve them well. You can also give statistical evidence as proof of your success in the past, like, the number of subscribers, the count of followers on your social media handle showing your business growth, etc.
The baseline is to present all the metrics that grip your leads provoking them to stay on your page and convert.
4. Top of the Funnel
The funnel top is the point where you attract prospects to your business. This is critical from the business point of view because you need to identify the audience, whom you are targeting; people who think will visit your website, subscribe to your newsletter or buy from you.
People will come to you from various sources like organic search results, social media, paid search campaigns, flyers, email marketing, etc. So you will have to master the sources where you think you will get the maximum site traffic ending up in maximum conversions.
Instead of a top-down approach, we are following the bottom-up approach because only when you know the end goal, you can start it right. Most of the experts focus on the top of the funnel, instead of the bottom, forgetting where the actual conversion happens. This is where their campaign mostly goes for a toss. Thus, you should aim to fine-tune your approach so that you exactly know where you want things to end up rather than starting over.
Other Important Considerations:
1. Testing
Testing plays an important role in any online business and marketing tactics. All web pages are equally important for a website and any worst performing pages can bring you all down. Analyze the causes as to why a page is not performing up to the mark. It may be due to technical issues like poor loading speed or maybe a disconnect between what you promise and what you deliver. A thorough testing will let you know the things that you need to tweak to rectify the issues.
2. Follow-Up
Evidence states that less than 5% of sales are made between first to third contact with the lead after viewing your page. And more than 70% of the sales occur between the fifth to twelfth contact. This proves how essential a follow-up is. There are cases when the cart is abandoned by a lead due to technical reasons, prices going high or losing interest in the product mid-way. But you shouldn't consider this as the end. Instead, contact the user and follow-up reminding him that his preferable choices are still waiting in the cart.
The trick is to do this without annoying your lead or over-pressuring him. The best way to achieve this is by sending out push notifications or emails within the regular interval to persuade him to buy.
Good Luck and Keep Reading!!!