Blog - Social Media Polling – Are You On Top of This?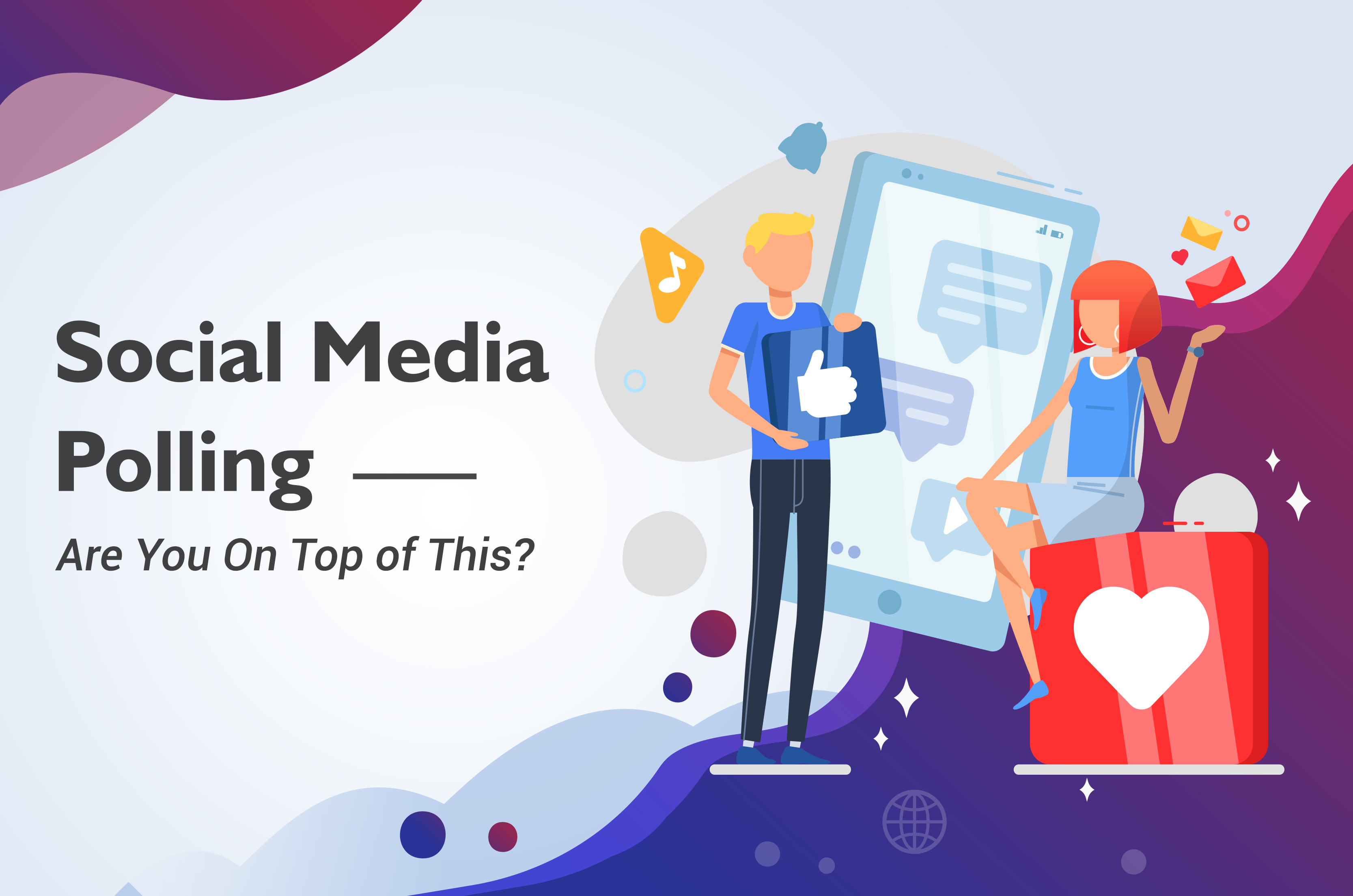 Undoubtedly, Social Media plays a significant role in your company's marketing campaign. But having a social media presence is not sufficient. Your marketing team needs to identify and leverage its potential to the maximum. And it is always recommended to measure the proportion of how it is being used. Sharing posts regularly and interacting with your audience LIVE is obviously great – nobody denies it. But how about shooting questions and polling on social media?
Seems fantastic, right? In fact, it sounds like a brilliant idea to understand your audience and learn about their experience. Through polls and surveys, you allow people to express their opinion on a particular subject and let them be a part of the conversation.
How can Polling help you?
Here are a few exceptional benefits of social media polling and how it can help you:
1. Get Free Feedback
Every business owner and SEO needs feedback. In big firms and companies, there is a dedicated team to conduct customer surveys and get an honest feedback.
But, getting feedback becomes a lot easier when you directly poll your customer base through social media. For example, if you have a fan base on Facebook or Twitter, they would be more than happy to share their honest opinion with you that too for free. This would include unveiling your shortcomings and all the applause for your great products and services.
2. Higher Engagement
Another perk to polling includes higher engagement with your followers and user base. Yes, social media polls are an amazing way to interact with your audience thus letting them know that you are interested in their suggestions and giveaways.
Polling is an efficient way to improve your services and demonstrate that you're constantly working to better the user experience.
3. Let you Produce Fresh Content
Social media enables businesses to produce new content through the poll and the results of the poll. In fact, your content should have the potential to entertain your audience and at the same time be informative.
4. Drive more Traffic
By creating a social media poll, you encourage your fans and followers to share your content with others across various platforms. Thus, there are high chances of new potential traffic flowing to your website.
On an average, a well-framed social media poll has the power to boost your traffic up to 20%, and that's not a small number.
5. Builds User Community
Polling is a marvelous way to hike user base because it invokes interaction. Polling determines that the communication link between both parties is two-way. Generally, insufficient and improper response turns off people and polling dismisses this concept totally. On the other hand, seeking inputs from the audience ensures that you are listening. So, it actually helps big time.
How to Utilize Social Media Polling?
1. Entertain your Audience
Laughter and Humour engulf the maximum engagement. Yes, if humor is apt for your brand, then polls can help you to crack good jokes. Posting questions that make your audience laugh can help boost user engagement. You can choose you to make the question silly, sportive, and the options cynical.
This will pique interest provoking your audience to chuckle and thus, interact with you more, simultaneously sharing your polls with their friends and family.
2. Gain insight on important subjects
Polls can be leveraged to get expert views from the end users and understand small details about a particular subject. It can be used to gain specific insight into customer preferences thus making the content and your services more engaging for the audience.
3. Frame effective decisions
Customer Polls if taken seriously can also help you drive important decisions pertaining to your business. In fact, sometimes the polls help brands to make instant and immediate decisions while reviewing the polling results. This lets the users know that they have the power to achieve a special outcome through their participation in the polls. It further leads to better response and higher customer satisfaction rates.
4. Leverage Real-Time Engagement
Real-time activities have proven to be beneficial for businesses and Polls have this element embedded. For example, during cricket matches polling becomes highly active across the Web and generates world-class excitement.
On the same lines, when people miss an event or are unable to attend it due to some reason, polling gains popularity. People become so excited and active on social media willing to know what's actually happening. They engage in polling and express their opinions about the event and other happenings.
Bottom-line is, yes polls have the potential to draw people towards it and keep the audience engaged.
5. Follow-Up on the Results
Polling leads to a set of significant and considerable results related to your business. And it is utmost necessary to review this feedback as this can become a source of potential information for your business to grow.
You need to go through all the comments and feedback (both positive and negative), respond to them effectively (so that the user knows you value his opinion) and take necessary actions to implement them in your business (not all but what you think can help your business boost and go up to the next level).
Final Words
So, after going through all these essential facts, it's pretty clear how crucial polling is from any business perspective. No matter what niche you belong to, whatever you sell or whichever services you provide, Polling can help you flourish and get bigger. Include this strategy in your marketing arsenal and boost your business TODAY.