Blog - Must-Have Features of E-Commerce Websites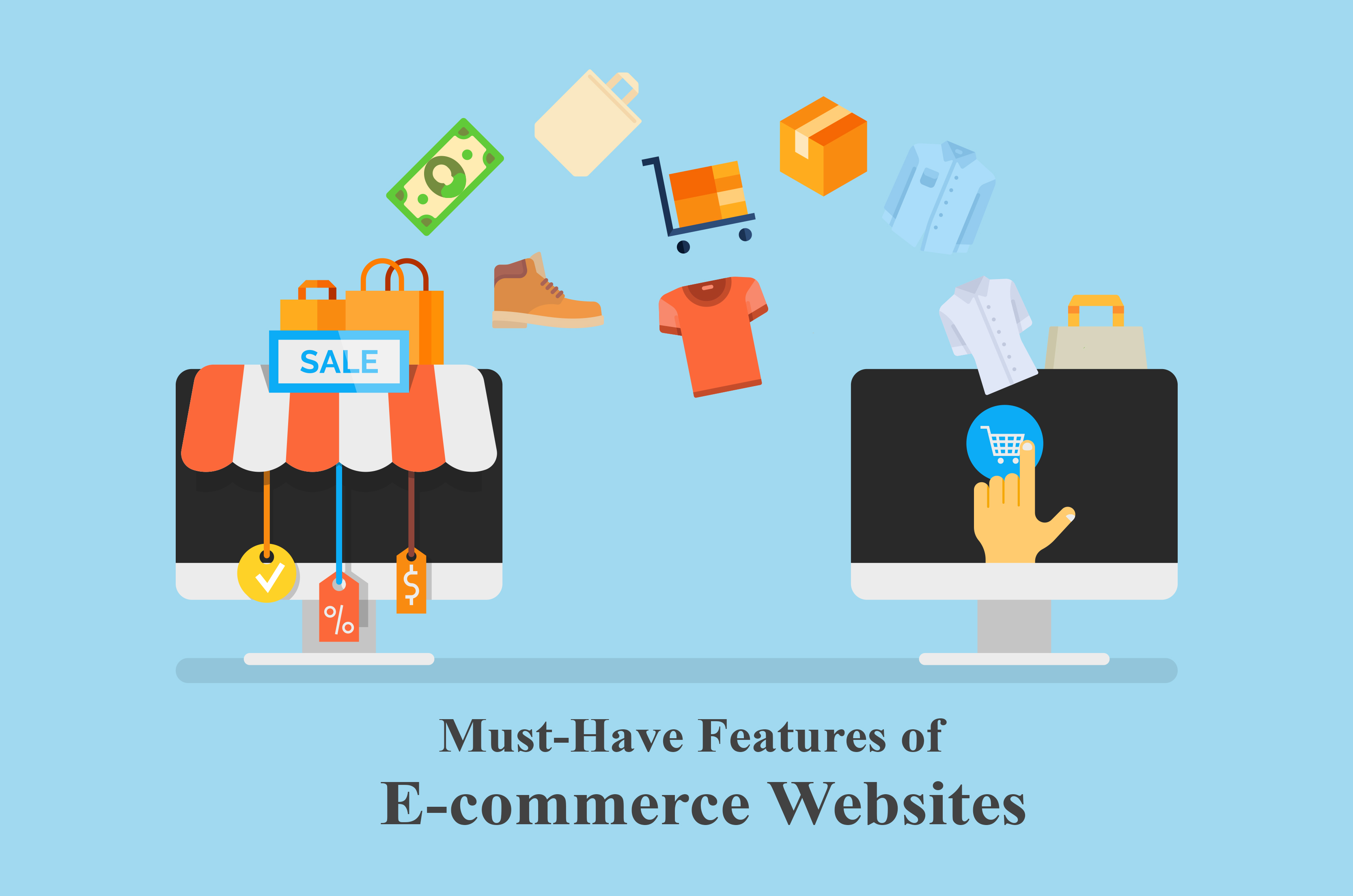 E-Commerce websites are all about functionality, features, and layout design. If you are running an online business, no matter which niche, there are some ground rules, a set of standard and unavoidable features which every online store and shopping cart platforms should implement.
The hard-hitting reality is that the success of any online business does not solely depend on its unique and high-quality products but also how well they are marketed and displayed. Take a quick glimpse at the essential elements and the components of a website:
1. Home, Header, and Footer
A good website header is a combination of multiple things:
An attractive business logo placed at the most prominent position
User –friendly and easy to understand navigation bar
Customer Login or Sign-In and Sign-Up button
Shopping cart/basket – The best position to place it is at the top right corner of the header
Search bar, to facilitate the user finding his desired products in no-time
Wishlist, so that the customer can create his likable list of products and choose among them later.
Website header should be optimized efficiently as it helps in website navigation. Even choosing a good domain name can be treated as a significant element here.
2. Offers, Discounts, and Latest Products/Release
The home page –or technically speaking the landing page—should have a slider showing popular discounts that customers would get after buying from you. Any latest deals, offers or even the latest launch details should be properly displayed. This would draw visitor's attention in no time and give them a reason to stick to your online store. Millions of people are seen buying stuff on discounts and sale just because they have a reason to buy – the slashed prices.
Use eye-catchy banners and attractive visuals to grab more eyeballs to your website or app. These days even free shipping has become the talking stock of the town. To save unnecessary shipping charges, most people are seen showing interest in shopping during the sale. But in such cases, ensure that you bound your customers with the minimum order price clause as it will make the deal effective at both the ends.
3. Product 
Include product attributes on your online store:
Product title – simple, clear and easy to understand
High-Quality product images (recommended taken from all possible angles)
Pricing information – both MRP and discounted price – making it easy for your visitor to take a buying decision
Option to select the quantity of product
Other variables like color or size
Add to My Cart button – This needs to be prominently displayed
Add to Wishlist and Compare – Compare feature facilitates user to make the best choice thereby avoiding confusions around decision-making
Related Products – This would prompt the user to find a product that he/she is looking for
4. Customer Reviews
Consumer Reviews are included in the product module itself but it needs a special mention here. Reason – Customer Reviews have become a driving force for users and influence them to make decisions around buying or abandoning a product.
It should be kept in mind that both negative and positive reviews should be displayed. Keeping only positive reviews can make a seller look less genuine at times.
5. Checkout and Payment
First and foremost, your online shopping website should accept payments methods that are most popular today. E-Wallets have become an exclusive attraction for buyers these days because of the additional discounts or cashback they offer. So, ensure you do not miss them.
Apart from this, other payment methods like Credit Card, Debit Card, Paypal, Stripe, etc. are the most popular ones used worldwide. Use their trademarked icons instead of names for a better interface.
In addition to the above, your checkout page should include:
Cart details – product name, price, quantity – and facility to edit or modify the order if needed (Example – Changing quantity or removing a particular item, thus making shopping experience scalable)
Total price highlighted along with mentioning the individual amounts, shipping, and taxes if applicable.
Billing and Shipping details (address, contact name, and number)
Security seals and badges to ensure security
Text Field to apply Promo Code or vouchers
6. Social Media Links
Including social media links at the header or footer of your page can be of a great help. It not only lets your customer stay connected with your brand but also get the info they need on just about anything.
Social media also helps in self-promotion as it helps online communities to identify the most active and loyal customers and also add new ones to your list.
7. Support and Live Chat
In case of queries or grievances, customers look for efficient support base to get their complaints registered and issues resolved. Live Chat option is the best feature available till date and should be definitely implemented. This helps you to address customer needs instantly and get them resolved quickly.
For value-added customer service, live chat and 24*7 support team have become a must. It solves the majority of pre-sale and after-sale queries.
 Other Important Attributes that shouldn't be overlooked
Privilege to select filters (Category, Brand, Size, Color, Material, etc.) – Filters save enormous time. Instead of navigating through the entire product list, a visitor finds it easy to search for a product by applying filters to reduce the search time and optimize results.
Blogs – You should have an exclusive blog page on your website that is frequently updated and should have unique content on the niche concerning your business (website). This would show you in a more genuine light; boost SEO and let the world know about your business.
Website Loading Time – Page loading time should be very less, as a number of visitors bounce off websites having high page loading time. It is a crucial factor with regard to SEO and user experience both.
Good Luck…!!!