Blog - Integrating Your Social Media and Email Marketing – Do It Today!!!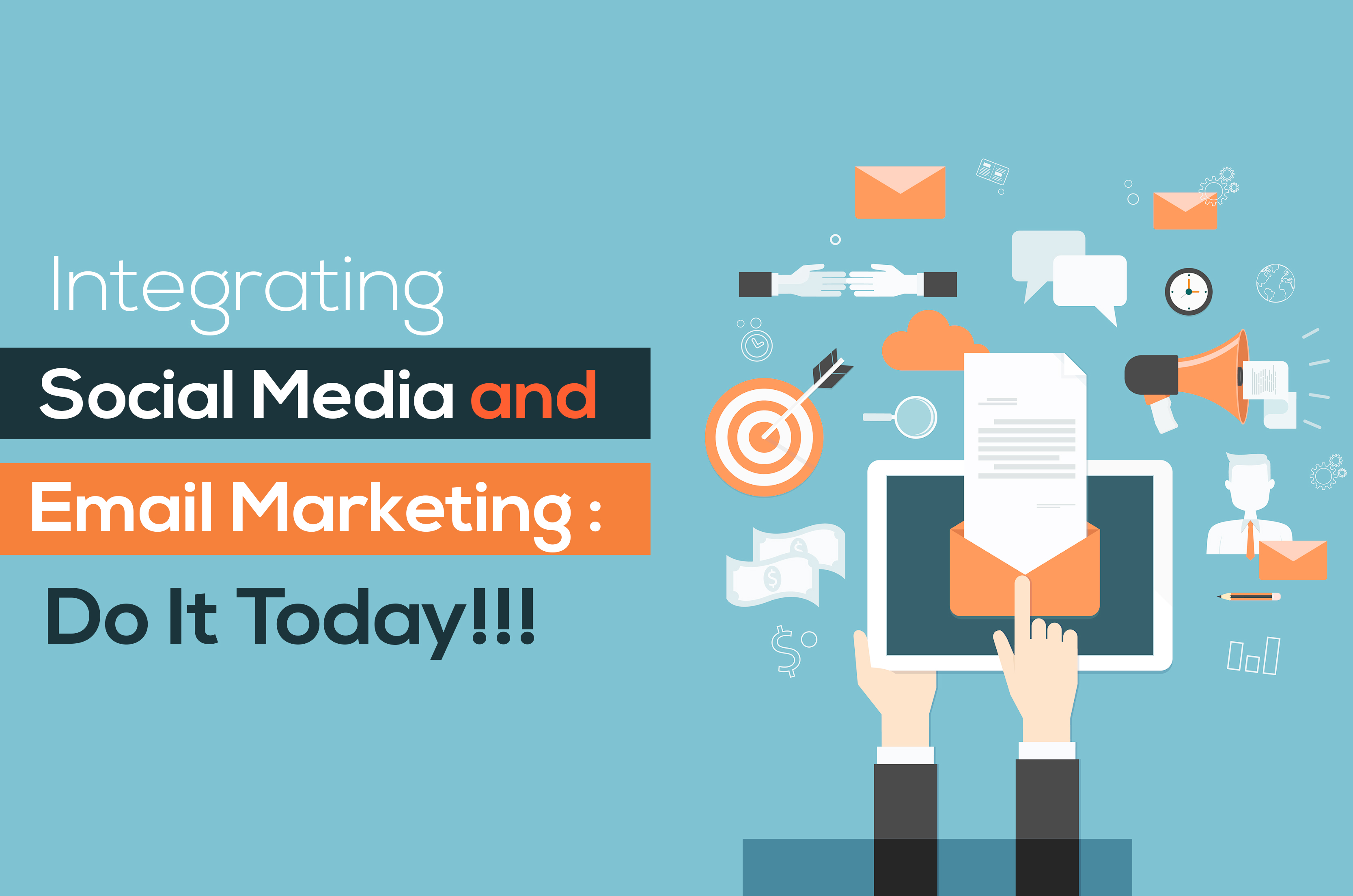 Emails are still too far from being out-dated for Internet Marketing Efforts. Though social media is recent in the game of online marketing, email campaigns haven't yet lost their hold. Many online marketers are using email and social media marketing together to promote their business and establish their brand recognition. But the fact is that you have to do it the right way. It would be a huge mistake if your focus lies on only one while you completely write off the other one.
While you do need to focus on each separately and utilize them to their best advantage, you should also integrate them as well so that they work together to bring your business the best results. So, let's have a look at some of the efficient ways to integrate the above:
1. Insert Social Media Buttons in your Email
This is considered to be the easiest way to let your list know that you exist on social media. It would also help them to easily locate you to follow on social media. Mostly readers intend to check your organization's social profiles and that is when they click on the social media buttons on the bottom of your email.
It is recommended to at least insert Facebook, LinkedIn, and Twitter buttons to let enable them connecting with you. Because the above three platforms are the most powerfully used when it comes to business networking and establishing corporate contacts.
2. Introduce a share bar
Point #1 above can be more effectively incorporated if you include a share bar in your promotional or marketing emails. "Share Bar" is a row of social media buttons mostly inserted on the top of the email. This helps the readers to share your email with others on social media.
For Example, if a reader shares your email on Facebook, it would appear on his FB timeline which would be seen by his friends. This would definitely boost your presence on social media and you will get more likes and followers.
You can also leverage this opportunity to insert your website URL on the webpage where his FB post opens as it would drive more traffic and convert more.
3. Use Social Media to Amplify your Mail Subscriptions
Social Media is the effective medium to grow your email list. The above two ways if implemented with the right techniques can help you enhance your brand's reach and visibility. You can expand your list by adding a link of a subscription button towards the bottom of your email. In the latter case, the call-to-action should be eye-catchy and attractive compelling users to take an action immediately.
4. Upload your Subscriber list to Social Networks
This is another efficient way to integrate your Email and Social Media Marketing strategies. Just upload your subscriber list to your social media networks and you can use them to follow subscribers there. You can also run social media campaigns for those who are already interested in your brand and like your products.
This effort would enable you to give an identity to your email subscribers and help you know them better – their interests, likes and dislikes, what they are sharing, etc. Once you your list better, you can draft better emails to target them at their sweet point, thus increasing the chances of higher conversions.
5. Retargeting Ad Campaigns from SM to Email subscribers
Creating ads is expensive and thus funds spent on it should be utilized effectively. Retargeting the people who were or are still interested in your products may boost your conversion rates and at the same time chop-off the possibility of sending inappropriate ads.
You can retarget your Facebook ads by installing a tracking code on your website. Whenever you send an email to your subscribers (leading to your website), you can capture the audience who clicked on it and later target your ads only to them.  This would save your time and effort retargeting ads only to the selected and loyal visitors.
6. Make the buttons easy to Share
Give selected options to share. Too many choices may lead to confusion, so keep limited choices of share buttons no matter how many social media platforms your business may be active on.
Include the popular buttons only. These include Facebook, Twitter, and LinkedIn. This would also make your email clutter-free and easy to read.
Conclusion
To make your online business successful, these two most effective marketing strategies should be integrated. Also, ensure that you interact with your audiences through both of them equally. Regular Social media interactions are equally important as reaching your audience's mailbox.
Good Luck!