Blog - Call-to-Action – The Key Player in Online Business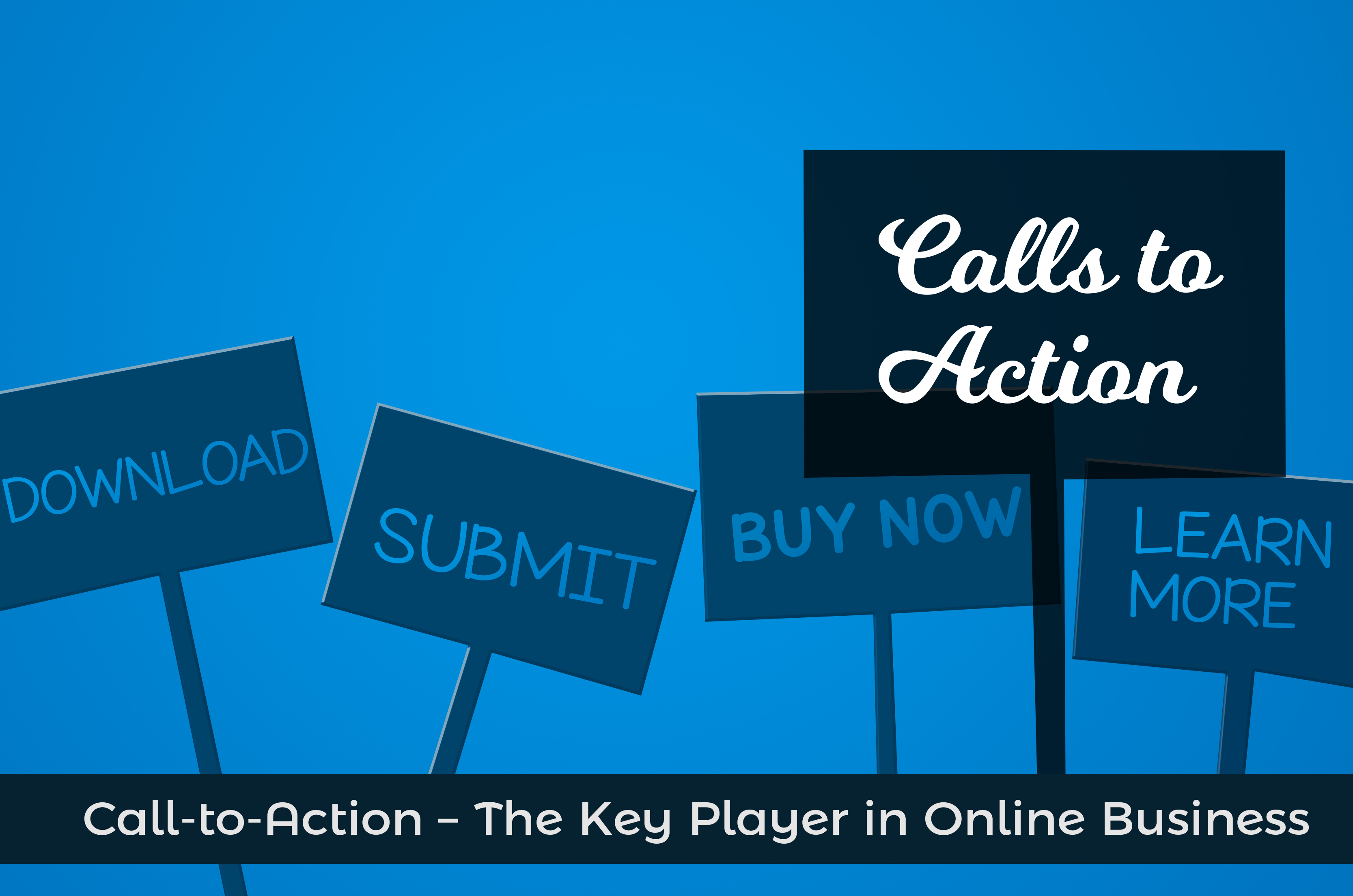 Building a perfect website is hard to comprehend. There are so many factors that contribute to building a website that has minimum flaws and loopholes. You need to choose an engaging color theme, appropriately matching fonts and take care of other important elements as well. One among these is the Call-to-Action (CTA), which is an important entity in itself. It stands out from the rest as it the big player in the game that brings you sales, leads, conversions, EVERYTHING!
A good CTA is the one that makes people act like you want them to. It should have the potential to drive sales on your website and bring you qualified leads. CTAs are not merely buttons; instead, you can refer to them as the superheroes of your website.
Key Pointers to remember when working with CTAs:
It should demand instant action.
It should make the work of a visitor easy and less complicated.
Visitors should not be searching for a CTA on your website, it should be vice-versa – CTAs should pitch your visitor at all important page folds.
CTA text should be clear enough to let the users know what they get after clicking on it.
Quick Tips to implement to make your CTA more Powerful
1. Make the outcome loud and clear
Putting simple CTAs like "Submit" will only drop your conversions. Not only have they become too common, but they also don't educate the user of what will happen on clicking it. This creates a sense of uncertainty among the users to click or quit it.
On the contrary, using CTAs like "Get My Free eBook", "Download your eBook Here" drives more conversions as before clicking the user know the outcome of his click (getting access to eBook in this case).
2. Use the 1st person in your text
By using the 1st person form in your CTAs can increase your conversions.  If you revisit your CTA copy you will find 2nd forms like you, your, etc. If you change it to I or my, then you will notice a difference in your sales and conversions.
For Example, using CTA "Create My Account" looks more appealing and friendly than "Create Your Account". You can test both the versions of these through A/B Testing and see which one converts better.
3. Create a sense of urgency in the users
Add words like "Now" or "Instant" to your CTAs to make your users take action instantly without waiting for hours to think and do it later.
For Example: Use button like "Get Instant Access", "Buy Now" etc. have greater chances of getting converted than simple text buttons like "Click Here to Get Access".
4. Do not elongate
Using single word CTAs might look too formal in some cases though, but buttons with more than 5 words look too long to for a button. You need to choose words or phrases such that it neither looks too long nor appear too short. Just find the right balance!
5. Show connected user statistics closer to CTA
Well if a person knows that your brand is popular in the market and used by several other people, then you have a brownie point. And ensure that you don't miss flaunting it. Yeah! This is because your services and products are trusted more when tested by other people.
Close to your CTA button, mention a rough estimation of how many people are members of your community or leverage your services.
For Example – More than 2, 00,000 people have joined our community… and place your "Join Us Today" CTA below it.
This will quickly let the person subscribe or join your community and give you a lead.
6. Choose Contrasting Colors
It is obligatory to make your CTA stand out from other webpage elements. It should be clearly visible and not get missed by the users. Choose contrasting colors and put it across in a bright fashion adding a shine and popup. Gradient feature is quite popular today and can also be used to make it more compelling.
Also, not to forget the text on the CTA plays a vital role in driving your sales, so it should be written in a color that creates a contrast with the button background color. This might seem to be a minute element but actually is an important website element.
Conclusion
Testing plays an important role in the entire process. Try different techniques, keep variations and perform timely tests to your code. Everything from color to font, position, and placement to size and length of the CTA matters.