Blog - 7 Reasons Why Guest Blogging Can Hoist Your Brand!!!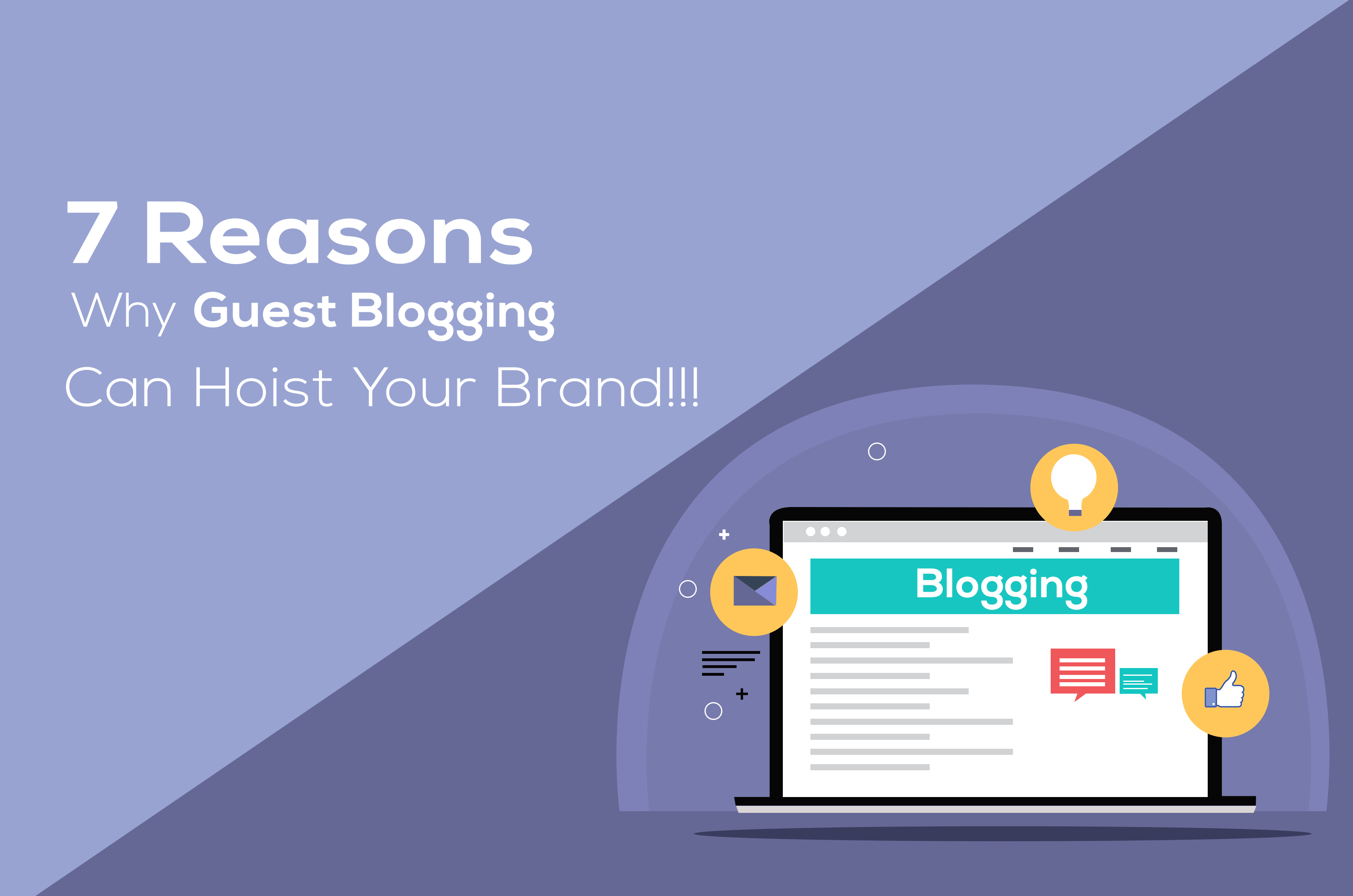 Guest Blogging is one of the safest online marketing strategies today and the whole Internet has gone bonkers talking about it. Contributing valuable information and up-to-date content to other blogs can help you grow your popularity, expand your target audience and win their trust.
Guest Blogging means writing quality content which would be published on other popular and hit websites. Bloggers are following this practice just to ensure that they are recognized not only amongst their audience but also others. This is an easy trick to build recognition and reach a targeted audience.
Let us discuss why Guest Blogging is important for your online business:
1. Builds Authority
By contributing to other popular sites, you can build your own credibility and flaunt your expertise. When you showcase your expertise and post content to other trustworthy sites, readers start believing in you and see you as an important and trusted source of information. They start valuing you as other bloggers and become more responsive and receptive to the knowledge that you share.
2. Attain Google Authorship
Through Guest Blogging, you can gain popularity on Google and thus attain authorship. A simple example of how you can do that – In your Google+ bio, add your blog to the "Contributor to" section. This lets your picture appear against your name in the search results for every post that you publish. This feature not only makes you popular but also improves your search engine rankings and boosts click-through rates.
3. Get more targeted traffic
Traffic is the heart and soul of an online business. And Guest Blogging, in every way generates enormous traffic to your website. But this is possible only when you create content and in return ask for a link to your website. So, just after a reader reads your post, he gets redirected to your website, making more people learn about your services, products, and offers.
4. Builds Effective Relationships
Through consistent Guest Blogging, you can build strong relationships and make good connections. By having good contacts, you can discover new business opportunities which would help you in the long run. And the feather of the cap – you will not have to look for new opportunities; instead, they will come to you. You just need to offer quality content to your readers consistently and wait for success to knock your door.
5. Increased Exposure and Following
Guest blogging is a perfect technique to leave your impact on the lives of others and be remembered forever. By this concept of guest blogging, your exposure will be enhanced and you can reach more people without having to invest extra effort and time in your marketing strategies.
Not only this, you can grow your social media following by boosting the number of social media shares to your content. With this, it establishes your online presence on social media and makes your brand recognizable.
6. Builds your Subscriber Base by Generating Leads
Guest Blogging, apart from generating qualified traffic on your website, fetches subscribers. The subscribers are the real people who build a business, and what can be better than guest blogging doing all the work of lead generation for you. You just need to provide authentic content to a website and backlink your lead generation form in there, and Bingo, you'll get new potential leads in exchange. Even if they do not reach you now, they know that you exist and might reach you tomorrow because you have left a strong positive impact on them.
7. Get Honest Feedback
As a guest blogger, you get expert feedback and comments from other bloggers, users, and experts. There is always a scope of improvement in everything that we do, no matter how good we are at it. And the expert advice can help us mold even better. An insightful feedback helps to refine business strategies and let you make decisions that are good for your business growth.
Guest Blogging undoubtedly plays a significant and key role in building your online presence in the market. You exactly get to know what people think about you and your brand. It grows your brand awareness and has the potential to make you a sensation in the online market. Just go for it without any doubts, and become popular TODAY…