Blog - Exploring the Scope of Social Media in the World of Marketing!!!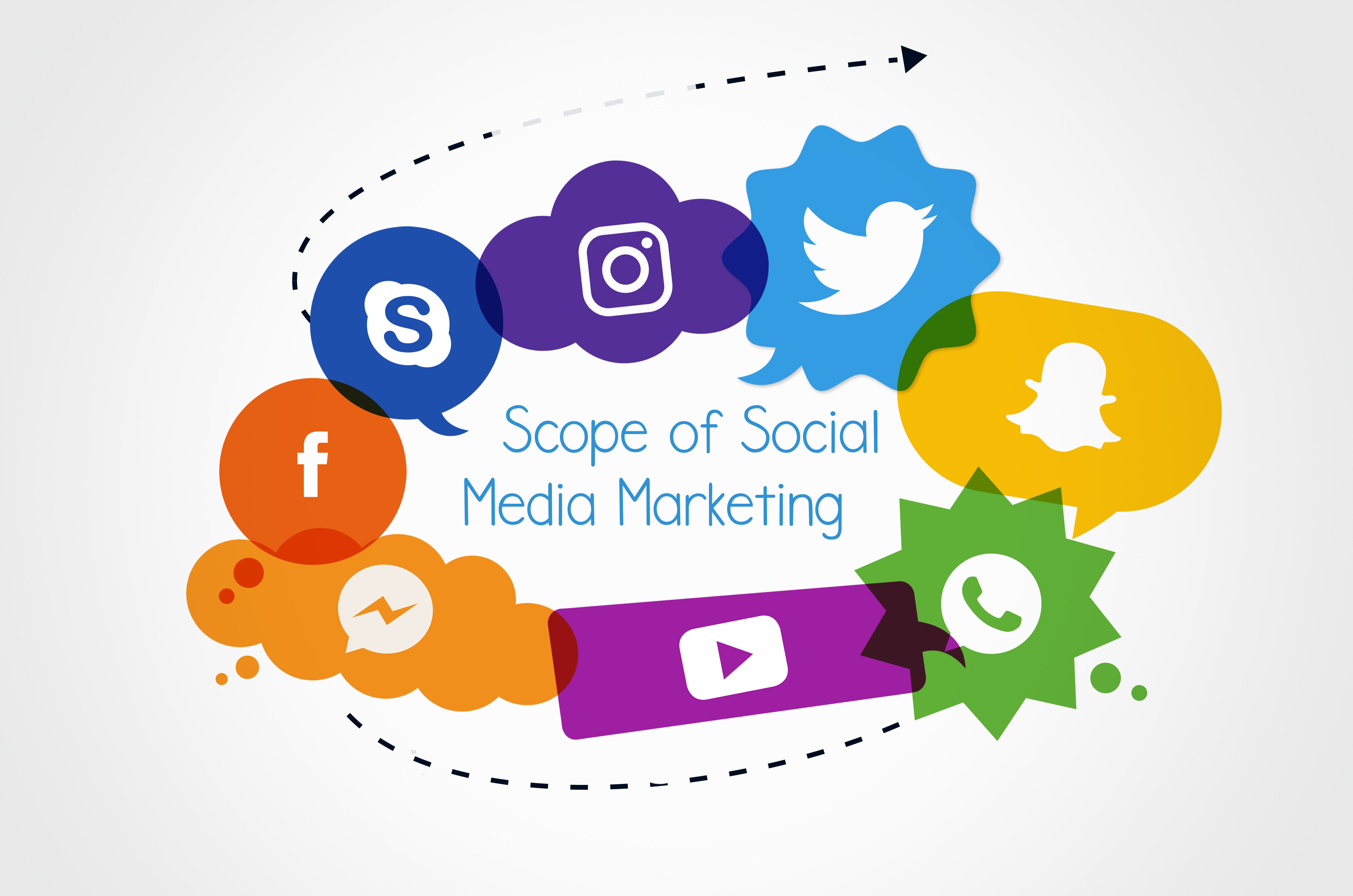 Social Media marketing and brand awareness go hand-in-hand. Social Media marketing is a technique to spread awareness of a brand or promote a particular product.  It aims at the following few important aspects:
Getting Brand Recognition and Awareness
Creating Advertorials and other authentic content
Seeking customer feedback through campaigns and surveys for improving performance and services
Social Media helps to connect with everyone from anywhere and thus facilitating anybody to promote content to anyone. It is a vast platform engrossing different channels to conquer the above-mentioned marketing traits. Various platforms like Facebook, Instagram, Twitter, LinkedIn, etc. are available which are different from each other and promote marketing using different fundamental models.
Facebook which has over 2 billion monthly active users works on the Page promotion model of marketing. In order to promote your brand using Facebook, you create a page and share videos and other content on it to attract your target audience. Not only this, here you can target customers based on their location, demography, interests and other likes. In order to boost these pages and ads, you can also leverage the paid model of Facebook to enhance your marketing campaigns.
Instagram, having a monthly user base of over 700 million users works on the B2C marketing model. It not only focuses on the big brands but also on the local and small businesses which face a tough time competing against the already evolved and famous brands. By sharing the Instagram stories and showcasing their brand abilities, Instagram is the best fit for such small-scale businesses.
Linkedin adopts the B2B model primarily comprising of a corporate and a professional user base. This platform is mainly used for sharing professional knowledge, information about businesses, job postings, etc. Linkedin also promotes businesses through top menu bar ads, contextual ads which are placed on the right side of a Linkedin profile and a landing page. This platform approximately entails a user base of 500 million monthly active users.
Twitter is a microblogging site which connects people through any walk of life using 'tweets' which are messages with a maximum capacity of 140 characters sent across Twitter. This platform is used by skilled professionals and works on both B2B and B2C marketing model. Here the posts are targeted using hashtags. On Twitter, you can follow a person, an organization, your competitors, customers and understand his likes/dislikes and various other attributes thus easily targeting him.
The Future Scope…
1. Influencer Marketing will see a Continuous Growth
Influencers are popular for their vast following on social media and possess excellent skills to viral the content. Considering the future scope of social media marketing, it is expected that Influencer Marketing will continue to grow. Brands would incline towards influencers who are best in their niche having the expertise to allow their brands flourish on social media and help them get the right ROI.
 2. Videos will continue to exist as the first choice among users
In the recent years, videos have been the top content which was shared on social media. But if the first few seconds of a video is not interesting or engaging it is bound to get ignored by the viewer.
It is likely that videos will continue to grow in the future along with other animated graphics to portray the message. Thus, the videos shared on social media should be engaging and captivating right from the start. The 'Live' feature is gaining popularity on many social media platforms now, which is known for receiving 6 times greater engagement that the regular videos. Thus the scope of videos in the future years would be powerful and amazing both.
3. Automation and Artificial Intelligence(AI) to gain prevalence
A lot more of automation software are expected to chunk in the social media marketing world in the future. HootSuite, Buffer, etc. are gaining popularity among the marketing world for aiding the management of various social media accounts. Automation is powerful and holds a great potential to integrate different media channels and create dashboards to showcase data and metrics to its user base.
It is expected that higher-level automation tools would be gaining popularity in the coming few years, this includes the AI tools as well.
4. Chatbots
Recent years have seen the emergence of chatbots in the world of Internet Marketing. They make the one-to-one interaction interesting while simultaneously making the customer services time-effective.
The growth of chatbots in the recent years is likely expected to increase by leaps and bounds, where they could even have a customized voice, specific to any brand.
Closure
The popularity of social media is growing rapidly and continuously evolving. The ranking of social media platforms varies over time. While some platforms see an enormous hike in its popularity, others see a steep decline in their user-subscriber base. But, you can rely on this complete set-up and concept of social media marketing. If platform A doesn't work out, you can switch to B. Remember, the exposure and recognition that a brand can attain using social media, that too in a very less time, is incomparable to what you can gain through other marketing campaigns.
So, get your hands on it TODAY…