Blog - Tweak your Website Design to Rejuvenate your Online Presence!!!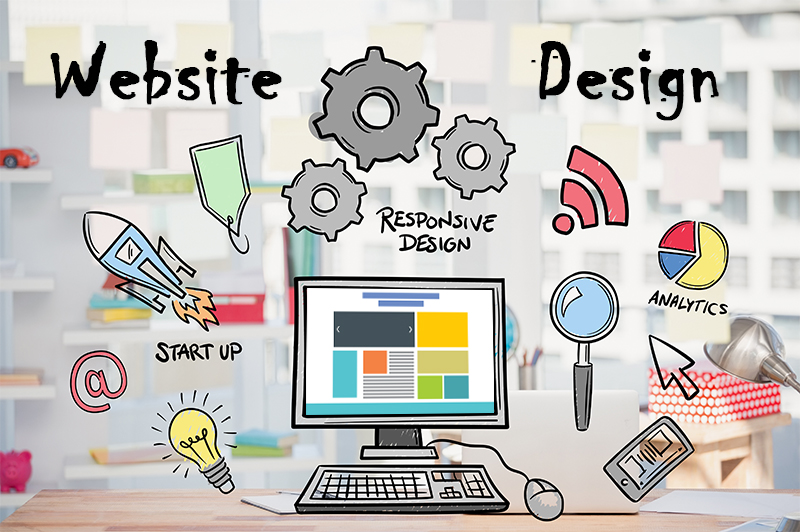 Website Design or Web design is one of the most important dimensions of your online presence. Your Website design is solely responsible for your presence on the Internet – good or bad.  Creating website is not just a task – it's an art! Building a website can be easy, but designing it professionally and apt enough to provide a clear message is mandatory. When we refer to 'website design' it is not only the visual design that we refer to – but also its usability and utility! Having a good design is important but having just a good design is not sufficient.
A well-designed website is the entry point for customers into your businesses. It helps to generate business, traffic, and leads and convert them into customers. A website impacts your business by the power of its design and creativity. Let's discuss in more detail why building a good website is important for your business.
Why is Web-Designing Important?
1. Leads to Better Conversions
It is very much ideal that if your website is well-designed, you will end up in getting more conversions. If a website is easy to navigate and saves customer's time of taking an action, you are on the right track. Your website should guide your customers with the action of elements available on the layout, thereby helping them to take necessary actions on your website without interruptions and distractions. It converts your visitors into customers leading to more sales.
2. Helps in Branding
A refined and classic website style can help customers connect with your brand and products. Creative yet simple websites send out a positive message to customers about your brand. It highlights your branding and lets the potential customers reach you in a much more sophisticated manner, unlike the shabby looking websites which mostly turn off the visitors.
3. Improves SEO
While designing a website, special attention should be paid to the site layout. Significant information should be displayed in the correct place on your websites like the upper-left column, or near sidebars on the left, etc. This not only puts the message across effectively but also improves your SEO. Including keywords related to your company or product into the HTML coding enables the search engines to sneak into your website easily, providing it more visibility and exposure.
4. Builds Customer Trust
Gaining customer trust is the most important from a business perspective. And a customer's trust is built only when you understand what they are interested in and what they like. If you take care of your customer's likes, dislikes, interests and disinterests, then you can strengthen your bond with them. A good website design can help you achieve this. The way you market your products through the website decides how convinced your customer is. You need to create a user-friendly environment for customers, with proper information portrayed in the best suitable way. If you manage your website regularly, there are high chances of customers returning to you and transact with you.
How to Tweak your Website Design to make it more Powerful?
Any site design has a scope for improvement – Mostly! As mentioned before in the blog, a website design is not merely judged on the basis of its looks or visual features, but also on basis of its usability and functionality.
There are few ways to tweak your website here and there to make it efficient and add more value to your business:
1. Define your Goal
Your business has its goal defined, then why shouldn't your Website have it too?
While building a website, your first step should be defining a purpose for each of your site webpages – every webpage should have a clear purpose defined. You cannot just keep on creating webpages and post content for no reason and make it bulky. You should also avoid redundant data to appear on your website as it can be irritating for users to see same things again and again.
2. Restrict Clutter on Homepage
A homepage is the entry point of any website and thus it should have only relevant and important content from both business and user perspective. It should be free of clutter and should be appealing to users to encourage them to make a purchase from you. There should be minimal interruptions and distractions for users as any form of clutter or junk can force them to exit your website.
3. Navigation
Navigation across your website defines how easy it is for a visitor to move around your site and take required action for the obvious reason why he decided to visit your website! It is recommended to follow a 'three-click' rule when it comes to navigation, i.e. within 3 clicks a user should be able to get the information which he is searching for through your website. If your site navigation isn't proper, it will pop-up multiple questions to your customer service desk and makes it difficult for both you and the user.
For better navigation, designers use some techniques like clickable buttons, including a logical page hierarchy of webpages of your website, and other features like breadcrumbs to reveal a visitor's location etc. These tactics play a significant role in improving a site layout.
4. Grid-Based Layouts
Using Grid-based layouts on your websites makes it appealing and easy to navigate rather than placing content randomly on your website without any logical order or sequence. A Grid-based layout arranges your content into different sections and columns to give it a systematic appearance and better look-and-feel.
5. Typefaces
Choosing the right font to display information on your website is important. You need to stress more about providing an ease to the user through a convenient interface. Fonts like Arial and Verdana are preferred for reading online content as they have a contemporary look without complicated finishes. The ideal font size should be 16px for reading the content online. Ensure that you should use a maximum of 3 typefaces in a maximum of 3 point sizes to streamline your design.
6. Power of Visuals
Using attractive graphics, images, and videos on your website can power it up by 90%. A video speaks more than an image or huge written-lines of text. Today, the users prefer to watch a demo or a short video of your product before they make a purchase. It helps them to take a quick decision of buying your product or opting out from it.
Videos not only leave a good impact on customers but also help to improve your SE ranking. Search Engines love videos.
7. Site Loading Time
A webpage loading time should always be less because users hate to view a website which takes extra minutes of time to load. Take necessary actions to reduce the response time of your website and increase its performance like using JS (Javascript) files to speed up the loading time. This reduces the HTTP requests on your server and boosts up the loading speed. Also, do check the format and scaling of images and videos used on your website to optimize its speed and performance.
8. Mobile Optimization
In today's era of smartphones, the usage of desktop sites is heavily reduced as people prefer mobile websites or apps to view information on the web. In such scenario, it's important to build mobile-friendly websites. Many website development platforms like WordPress provide a plugin to convert your website's appearance to mobile responsive. If your website is not mobile ready, then you need to build a dedicated mobile site for your mobile users.
9. Consistency
Your website should be consistent i.e. everything should match and suit a theme that you choose across all the webpages. Maintaining consistency throughout your site reflects professionalism. Even minor mistakes like misspelled words or an extra whitespace in the content that you publish on your site can reduce the quality of your work. The heading sizes, fonts, button styles, spacing and other design elements etc. should be consistent throughout your website i.e. all the webpages.
10. Display Content in the Correct Sequence
Most users scan data horizontally from left to right, and vertically from top to bottom. Thus, the top left of the screen is most prominently noticed by the users and the right side of the webpage is rarely looked at. An efficiently designed website will publish important content on the left & top pane of the webpage by not disrupting a reader's natural behavior and display the information in the order of the importance i.e. left to right and top to bottom.
Home Page: Key Points to Note
First Impression is the last impression! And nobody can deny the fact that the first impression matters a lot.
The homepage of the website is the first thing that a visitor sees when he lands on your website, and thus the significance of it is more than any other webpage of your site. Homepage sets the right note for your business – so it becomes very important that you design it most effectively.
Knowing the fact the Homepage is the driving part of your website, let us understand what content should be included in it. The layout of your page is split up into two main parts: Above-the-fold and Below-the-fold. The content that you see without scrolling down when your homepage is loaded is Above-the-fold and the content which you see only after scrolling down is Below-the-fold.
Attributes to be Included Above-the-Fold
As this part of your webpage will be seen by 100% of people who visit your website, it should contain all the eye-catchy and important part of your business.
1. Headline
Use a clear and eye-catchy tagline as a header on the homepage which should put your message across in a straight-forward manner. This will convert more visitors and help you grow.
2. Sub-Headline
This clause will help you to describe your products in a slight detailed way. It should give information about what services your business offers and how your products can help your visitors.
3. Primary CTA
A Call-To-Action will enable the user to take an action after viewing your webpage. Use text-based CTA buttons above-the-fold, as it converts better and makes sure this button is infographic, i.e. tells the user what to do next, for example, "Subscribe to our Newsletter".
4. Landing Visuals
Use attractive visuals on your first fold, good quality images or videos to showcase your products, basically what you are trying to offer through your website. Always remember, a user might or might not read the text on your website, but he cannot ignore the images or graphics that you post to portray your business.
5. Company Logo
A Logo is the sole representation of your company and what it is about. It determines how professional, updated or aggressive you are! Make sure you design your logo with high-quality graphics and images.
Attributes to be Included Below-the-Fold
This section will be seen only by the users who actually like your "Above-the-Fold" section and are keen to scroll down to know more about your business and what you offer.
1. Benefits
Focus on the listing down the benefits of your products so that the customer has a defined reason to buy from you and thinks you stand out from others.
2. Feature list
Include a clear list of features of what your customers will get after buying your product. Mention features which impress your audience and eliminate the ones that are irrelevant or which the customers are already aware of.
3. Trust Measures
Do not forget to include customer testimonials or customer success stories in "Below-the-fold" section. Here, you can also mention the statistics like the number of social network shares, or media quotes which impresses the users.
4. Support details
Include your Customer Service desk email Id, contact number and your social media handle details so that they can easily reach you out when they need any additional information about your business or products.
5. Other additional content
Apart from the above, any other additional content, like offer details, upcoming launch dates, blog details and other information like free coupons or offers can also be included in this fold.
Conclusion
A well-designed website is the building block of your business. And hence, it becomes very important to design it with utmost research and knowledge. Don't wait and start building your website TODAY…