Blog - Shuffle off the Major Website Conversion Killers and Boost Up your Sales!!!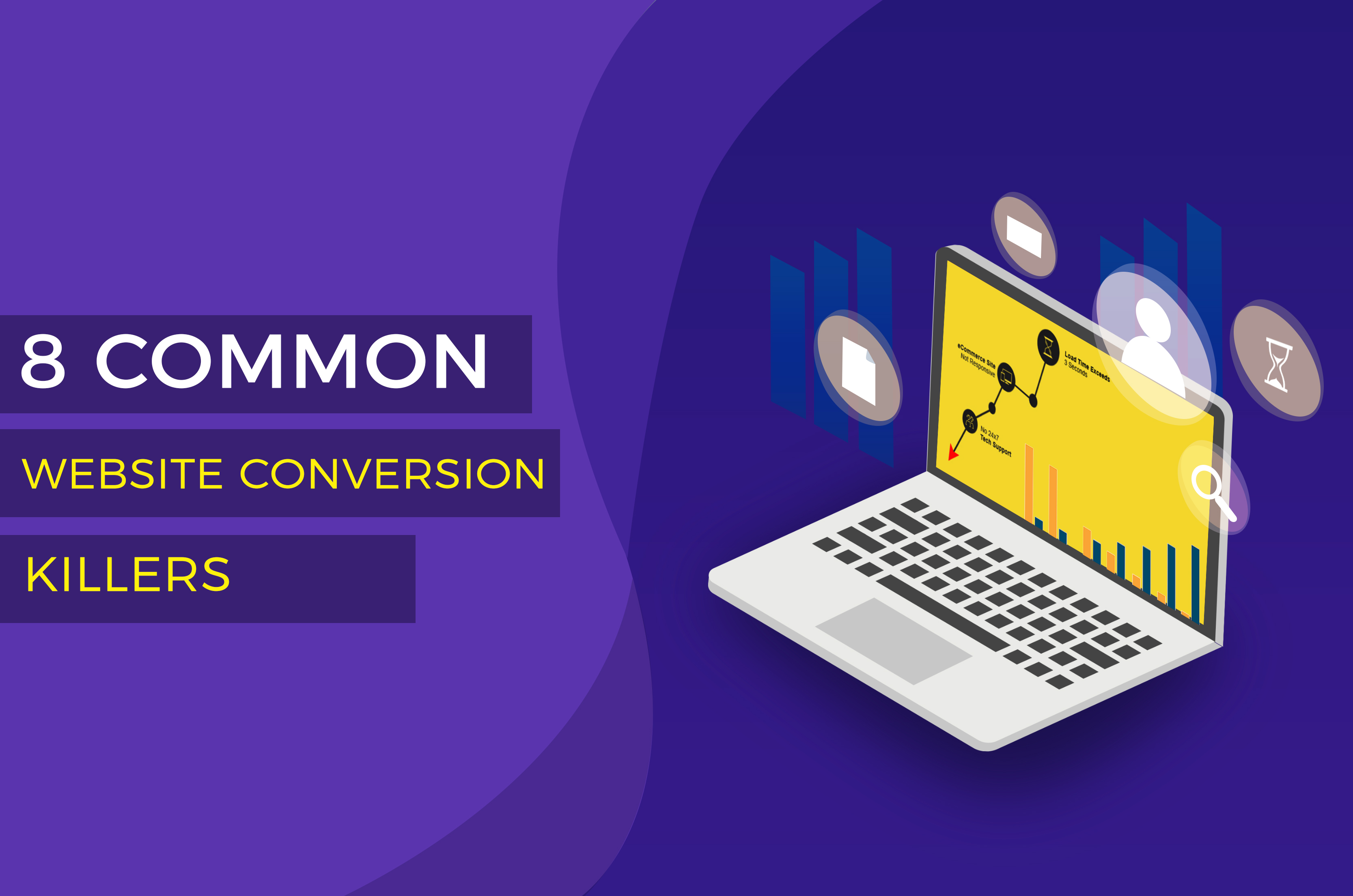 Website plague can affect your conversions and act as a repellent to your visitors. If your landing pages or campaign-specific web pages are crowded or poorly designed, it can almost kill your conversions and sales.
Basically, there are various factors that could boost the user bounce rates on your websites. Let's check them out:
1. Unfriendly Website
Your website should wear a friendly facet that would help visitors solve their problems. If you really want the website visitors to enter your site and offer value, you have to provide them with informative and valuable content.
When a visitor visits your website, he comes looking for answers to some questions in his mind. If your content fails to offer the correct answers, it creates a negative impression of your business and thus your site visitors bounce off and never return.
So point 1, make your website friendly, attractive and at the same time provide value to the site visitors.
2. Unsearchable
Search boxes are a significant element of any website that shouldn't be missed. It is most recommended to place them on the top right corner of the website homepage. Use content filters that will expedite access to the content that the site visitors may be looking for.
Note that if your search bar does not answer the question posted, it disappoints the visitor and frustrates them forcing them to immediately leave your site. The solution is to provide them the answers that they are looking for.
3. Keyword Disconnect
Keyword connectivity is paramount. Your website traffic mostly comes from other websites and this is the reason why keyword disconnects can be website conversion killers.
The keyword that a visitor clicked on or used to discover your content should be noticeable and stand out on your webpage. This keeps the continuity of keywords stable and makes your content searchable.
4. Distracting Website Design
The website design should be optimal because it is the first thing that a visitor notices about your online business. Sadly, there are websites which are over-designed that distracts the visitor from his actual goal. Sometimes, the graphics used on a webpage lack the potential to captivate the audience's interest. This turns off the users from navigating further.
The webmasters and designers should choose colors and designs that trigger the emotional connection to your site. Do not create "noise" by adding distracting elements and stuffing it over.
5. Mobile Irresponsive
Unfortunately, there are businesses competing online that do not have a mobile responsive website. This indicates lost business. More than 80% of people search use smartphones or tablets while searching, and if a website is perfectly functioning on any screen, it opens the gateways to new customers. On the other hand, a bad mobile site experience is frustrating and hated by all, thus lowering your credibility.
6. Call to Actions Failing to Inspire
To fetch more conversions, you need to establish an environment that eases it. And one of the ways to do that is embedding a simple, clear and inspiring call-to-action button on your webpage.
The text on the Call-to-Action should be chosen wisely that inspires the visitors to take an action. Don't make your users struggle to get through their purchase or subscribing to your newsletters. A clear call-to-action addresses what to do next or clearly direct them to the next step.
7. Signing in without any benefits
Don't force users to sign in for you without offering benefits. Never do that.
A website that provokes you to sign in with absolutely no benefits drives off potential clients. To capture leads, you need to offer something that your customers need. You need to take care of their demands and needs in order to boost your conversions.
Your free gift builds a strong base and gives your targeted prospects a reason to buy from you and use your products and services.
8. Attracting wrong users
If your website attracts site views but the visitors don't buy from you, it means you are targeting wrong users. When designing a website, you need to establish your goals, identify your audience, do a thorough research and then target visitors.
You design must appeal to your IDEAL Customer. Keep your focus on user response primary to your niche market.