Blog - SEO Vs. PPC – Which one is Best-Suited for You?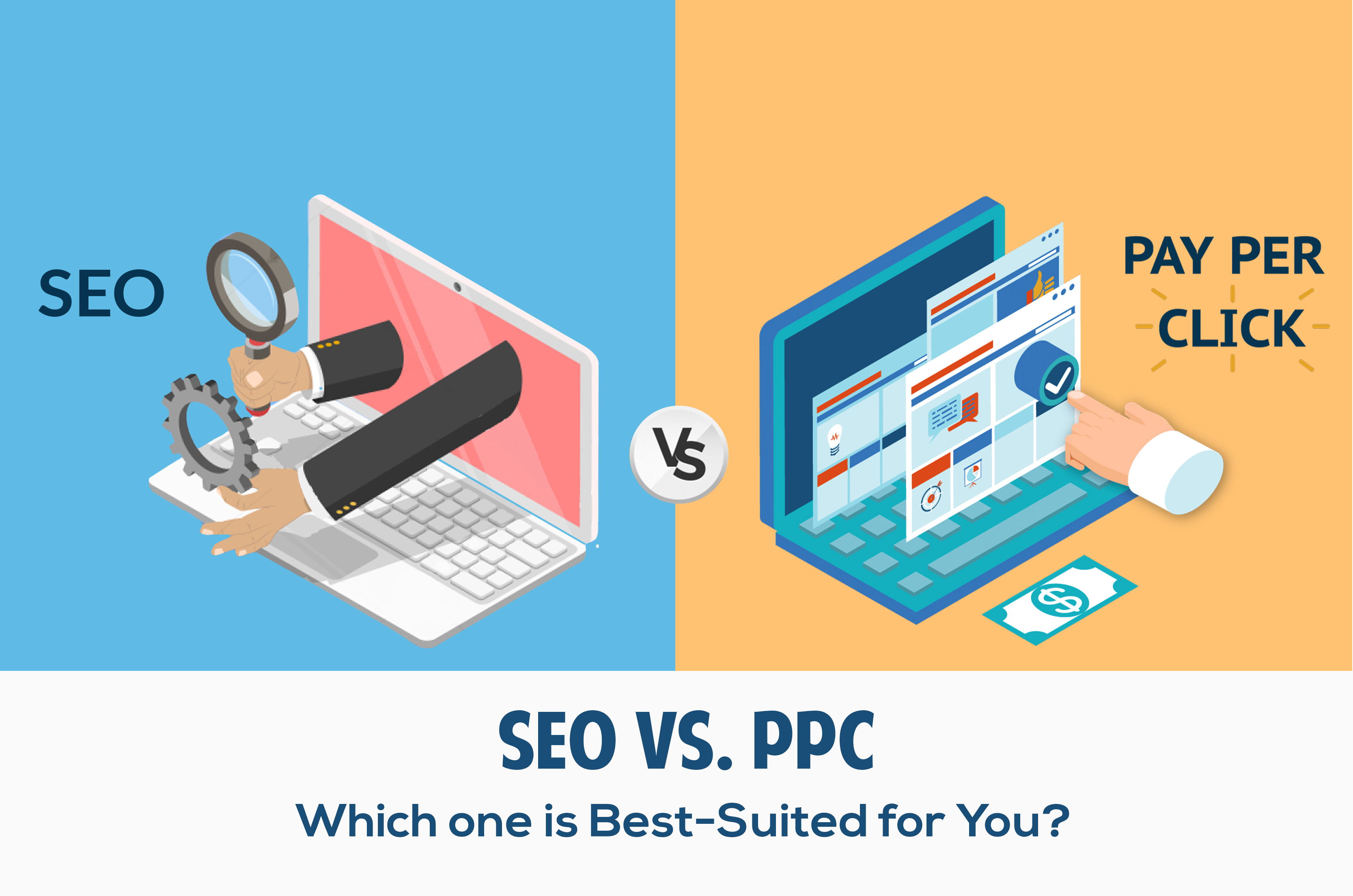 While working to promote your business online, marketing experts have to mostly deal with a common question – "Which is better – SEO or PPC?" But the answer to this question cannot be either one among the two, because it depends on your objective, marketplace, and the current state of your business.
The fate of any online business greatly depends on the traffic that it can generate on its website. And both SEO and PPC are the most powerful traffic generating approaches for any business today. But the difficult part is to decide which one offers you better value. So let's just take a peek behind the curtain.
SEO and PPC
Search Engine Optimization, SEO, refers to a strategic plan and technique to rank a website on the first page of search engines. On the other hand, PPC, Pay-per-Click marketing is an advertising method on the search engine results pages. The former deals with ranking high in the organic results while the latter, is a concept of displaying purchased ads on the results page of a search engine.
Both of the above are different concepts aiming at a common ground i.e. Traffic Generation! With SEO, you can rank your website on the first page if it is optimized for search engines. On the other hand, with PPC, if you pay a high cost, you can get your advertisement listed on the first page.
Analysis Grounds
Let us first analyze both these concepts before jumping to any conclusion:
1. Potential to Generate Traffic
SEO (Organic) traffic is more when compared to the traffic generated by PPC. So, if you and your team can take all the pain of managing keywords and rank on the first page of search results, you will get much more traffic than having to pay for those keywords. So, if you can manage to accommodate your website in top 5 on the search engine results page, you will see continuous traffic flowing on your website.
In PPC, the traffic comes with a cost attached to it. You need to pay for the ads that appear on the first page of the results page which redirects users to your website. This is a per-click cost which means that if you get more clicks on the ads, you have to pay more.
2. Cost
Organic traffic in case of SEO is free but for PPC traffic, you need to pay a good amount of money. For SEO, the correct placement of keywords is preliminary and important, while in PPC you need to pay only for clicks that your ad receives. Views, on the other hand, are completely free.
So, if you choose to work hard on your keyword setup and manage to do it successfully, then the traffic is totally free. And if your keyword strategy goes for a toss, or somehow you fail, you can opt for PPC where you can determine your daily budget on the ads in advance. You can also compute the average cost per click for the keywords that you want to target.
3. Conversion
If your ads are highly optimized and targeted, then a visitor through PPC is more likely to convert than the one coming through organic search results. Because a website targets multiple keywords, along with the ones less intended for. Thus, sometimes a visitor lands to a website even though he may not be exactly looking for content displayed on your website or a particular page. Such situations do not exist in cases of PPC campaigns, because there you get clicks from visitors who are totally interested in your product or the services that you offer. This is known as qualified traffic.
 4. Usage
Both SEO and PPC demand a complete in-and-out knowledge and experience for effective implementation. SEO needs a great deal of effort, time and patience before you actually see the results coming in your favor. Sometimes it may take months, or even years to rank your website among the top 5 positions on a search engine. On the other hand, for implementing PPC efficiently, you may need to hire an expert who has a deep understanding of the subject, or else you may actually lose a huge sum of money before you understand its process thoroughly.
Conclusion
To conclude with, both PPC and SEO hold a different importance when it comes to generating traffic. Yes, PPC is one of the great ways to kick-start the business internet marketing plan for getting traffic immediately. SEO is equally important, but it needs time to build your page authority on search engines. But once you are successful in listing your page rightly, you can guarantee traffic 24 * 7. And not to forget, without proper setup of keywords, your SEO campaign is bound to fail.
When implemented wisely, both PPC and SEO have the potential to let you dominate the first page of search engines.
Good Luck!