Blog - Refurbish Old Content to Boost Your SEO and Keep Your Audience Engaged!!!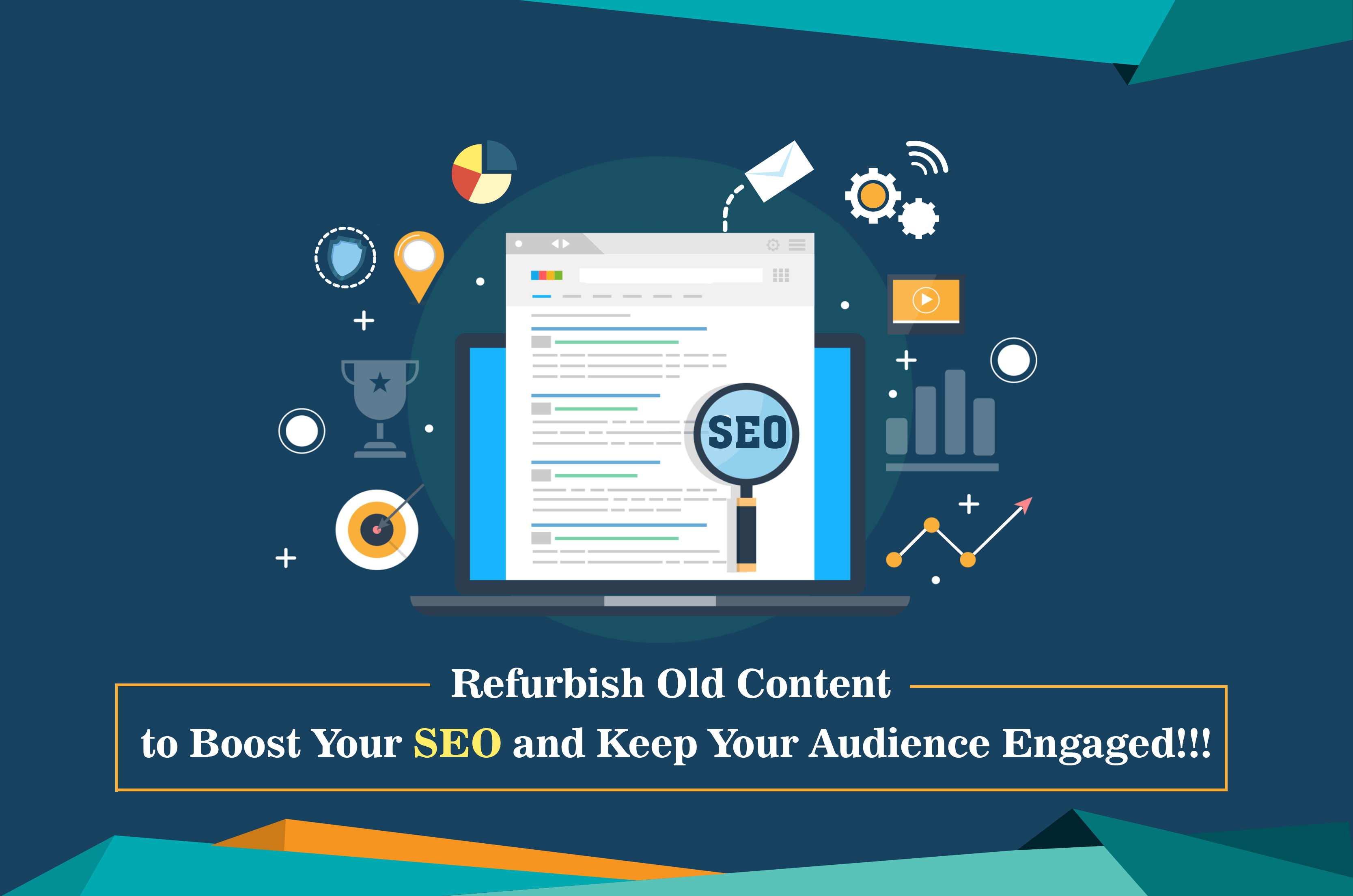 Irrespective of the niche that you're operating in, you need to constantly bring new and engaging content to reach a new audience and retain the existing. There is an insane competition on the Web. The realistic figures state that every day there are a million blogs and articles published on the Web.
Amidst this growing and continuously expanding online industry, it is neck-breaking to keep your audience consistently engaged and simultaneously boost SEO. And one of the best ways to get rid of these problems is to recycle content that is previously published. This will not only keep your users engaged but also give you an SEO boost.
Let's discuss some efficient ways to refurbish your content to make it appropriate for your audience and SEO:
1. Jump on to Infographics
Considering the prominence of visuals, it is justified to reuse content and represent using infographics. You can pick facts and stats from your blog posts or some catchy one-liners and plan them to present through infographics. Though designing infographics might require you to invest a lot of time, but it's worth the effort.
Make sure you cherry pick the content that you want to showcase through infographics.
2. Break it down and use it as snippets
Snippets can be one of the easiest and effective ways to repurpose content. You can extract a quote, an idea or any compelling one-liner and use it as a post on social media. A single blog encloses so much information that it can provide you with a handful of tweets, content for your Instagram stories, and Pinterest pins.
3. Create Videos
Videos have an everlasting impact on the viewers. Today the youth has absolutely no time to spend reading endless chunks of information, until crucial. And so, they prefer to watch videos on YouTube, Vimeo, Facebook, etc. So, when you are looking to repurpose your content, videos can be a great option.
It is important to mention that do not effortlessly keep reading your blog content in your video; instead, get creative with it. Use snippets, images, and go on with it.
4. Try Slide share
You can also refurbish your content using SlideShare. If your content has a good number of graphics and is business oriented, then SlideShare is a good option. This truly converts more than expected.
Important Considerations:
1. Do not copy and paste
When you are planning to repurpose your content, never copy and paste it. Try tweaking it here and there before you publish it again. If you get caught by Google, you will be penalized and will have a drop in SEO instead of getting a boost.
2. Experiment different things
Just in case you do not have the experience to record a video or design powerful visuals, do not worry and keep trying different things. Do not fear to experiment because anyways you have nothing to lose.
3. Create and Re-create
The Web is an interesting place to explore. The more content you publish, the higher are the chances of your success. But again, this doesn't mean that you will push irrelevant or crappy stuff there – you're likely to fail if you do that. Be cautious about what you publish on the Web.
Content Marketing is one of the most powerful forms of marketing. And if you play it right here, you will see conversions flying high in the sky. You will not always find new content to write about in your blog or web pages, thus developing a need for refurbishing the old one.
So, Note the above pointers and keep a check on them, and nobody can stop you from becoming successful in this game of online business.