Blog - List Building- Lead Magnet Marketing!!!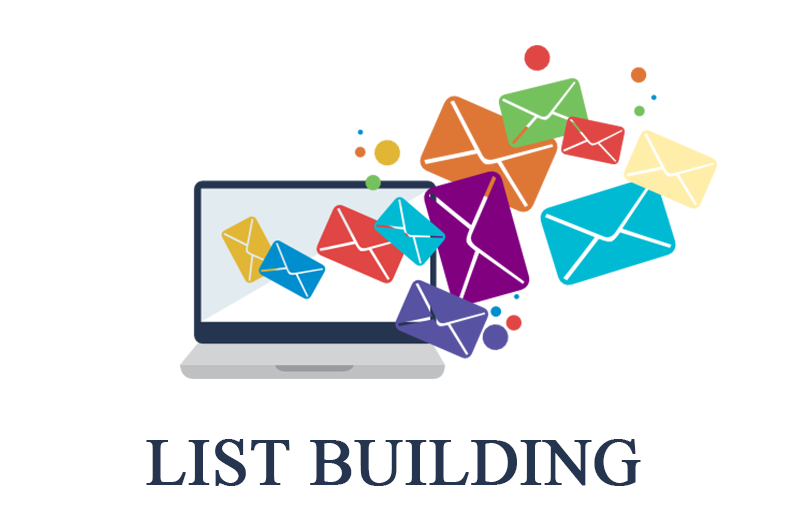 Can you grow your business without building a List? The answer is definitely a NO!!!
List Building, as the name suggests, refers to a process of creating lists for email addressee which can be further used as a digital marketing campaign. It is an absolutely amazing way of building fruitful relationship and rapport with customers online. List building also referred to as Email marketing is an efficient strategy to engage your customers and let them dive deep into the well of your products and services.
List Building is earmarked towards adding new email subscribers to your emailing list and finding a place in their mailbox. But to reciprocate, you have to offer them something beneficial and substantial to let you access their inbox.
As per a recent survey, we have come across few but important statistics:
91% of population likes to receive promotional emails from the companies with which they share a relationship. 69% people act after receiving promotional emails or notifications. For every $1 spent, email marketing generates $38 in Return of Investment (ROI).
Email is 4 times more successful in targeting your audience as compared to Facebook.
The above stats direct us to the fact that you should build a strong email list to get more leads and better conversions. List Building is one of the most secure & appropriate way of generating recurring income.
Now the most challenging question arises– What are the smart ways to build an email list without interrupting the customer? Well, read further:
1. Add Sign-up dialog on the home page
The most frequently visited page of the website is your home page and the most dominating page too. Homepage, also known as the Welcome page of your website is where you can attract maximum customers to subscribe to your services or products, by offering a sign-up gift or some amazing deal to your customer, mostly referred to as "Lead magnet". This would act as an incentive to your customer if he opts for your newsletters. Indeed, you can leverage your homepage to attract as many customers as you wish to.
2. Display a Pop-Up at the End of the Page
Not asking for user subscriptions at the end of your webpage can account for a major leak in your website! Adding pop-ups at the end of your page is absolutely the correct place for asking email address. This is the point where a customer has read the entire content on your website and only then he decides whether or not to subscribe to your newsletters and offers.
 3. Present a Pop-Up while the user intends to Exit
Exit-intent is a latest technique to determine when a user is about to leave a website. Whenever a user is about to close the webpage or even appear to the close button, a pop-up is triggered. This generally stops a user to wait-and-see what just popped up. This would be an invitation on your website – making users stay on your webpage even while they were intending to exit!
4. Slide in opt-ins while scrolling
When it comes to engaging customers, you have to be gentle and polite! While a user is comfortably browsing the content on your website, you should be completely hustle-free. Act gentle here and slide in a subscribe form from any of the bottom corners.
Recommended time of sliding this pop-up is when a user has browsed and scrolled down through 70-80% of your webpage.
5. Introduce Sign-Up Requests on Side-bar
Adding a side-bar to your website provides additional value to it. It becomes more appealing for a user and is actually a great place to include your opt-in forms. You should always include an email sign-up form at the top of your sidebar, this being the most apt location for it. Along with advertisements displayed there, including a sign-up offering attractive gifts or discounts on subscribing will increase your email list size.
6. Pop-ups on the "About Us" page
A newbie generally navigates on the "About Us" page of your website to find more information about your products and services. Introducing a popup at the end of this page would be an effective lead magnet marketing strategy. In this way, you let the world learn more about your business and end up getting access to their mail boxes!!
 7. Launch an exclusive Landing Page
An exclusive landing page for email marketing can expand your conversion rate up to 50%. Create an optimized landing page for email subscriptions. Use attractive designs and graphics which fascinate your customer and enable them to subscribe to your websites. This would lead to high traffic generation and boost your profits up!
So, if you haven't built an email list yet, you're probably missing an opportunity to take your business to the next level. Hurry up, build an incredible and remarkable list with these strategies and earn huge profits!