Blog - Lead Generation Enigma for Marketing Campaigns Unveiled!!!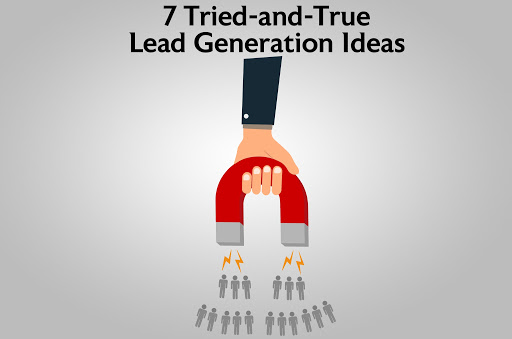 As Internet Marketers, most of us spend time creating quality content to generate qualified traffic to our website, keeping in mind the ultimate goal to generate new leads converting them to become our loyal customers. Lead Generation is a process of fetching contact information, that mainly includes the email address of potential customers and seeking their permission to contact them by offering them exclusive gifts or welcome stuff like special reports, eBooks, etc.
In today's reign of the supremacy of digital marketing, lead generation is essential for every brand or organization to grow. Email is a personal mode of communication and hence, if you are planning to seek a prospect's email id you should plan to provide him something valuable in return. In the language of Internet marketers, this "valuable" thing is termed as "lead magnet" and holds a great importance.
7 Tried-and-True Lead Generation Ideas to Implement on your Site
Lead Generation Strategy is one of the most important aspects of your Digital Marketing campaigns and should be implemented with utmost efficacy. Let us discuss few tips and tricks on generating leads on your website:
1. Create and Upload Promo Videos
Reading is good, but visualizing is better!
Today, when people are left with almost no time to go to a website and read the powerful content that you post, you can still be on their hit list by creating efficient promo videos and guiding them to use your products and services. While the promo video is playing, you can insert a Call-To-Action button in the middle of the video to capture email address and generate leads.
2. Blog Consistently
This is nothing new – Since years, blogging is quite effective for generating leads. Knowing that blogging can create wonders for a business, people do not take it seriously. They still do not follow strict calendar on posting blogs and tend to give up on blogging when they do not see a positive outcome in few months.
It is proved that blogging regularly can double your organic traffic and give you leads which would help you build loyal customers who will convert. By consistently providing value to your visitors, you can educate them, gain their trust and eventually convert them.
3. Promote Guest Blogging
You would have heard about Influencer Marketing. If yes, you even might know how much value it can add to your business. And – inviting them to your website for guest blogging – can be an amazing opportunity for you to check-in to your influencer's network! In exchange, you can either choose to pay them or offer them something else, like exposure.
This is a dual-sided strategy to get both the ends meet. You are offering them a platform to blog on, i.e. your website. And in return, you get a quality content article which would not only be shared on your website and social media handle but also on the influencer's social media channel. This opportunity will also help you to build a strong and long-term relationship with your influencer.
4. Leverage the use of Exit-Intent Popups
Exit-popups briefly interrupts a user who is browsing through your website but decides to leave or exit without taking any appropriate action. The interruption is made with a message, provoking them towards a simple call-to-action. This pop-up would be used to provide your lead magnet to a customer who no longer seems to be interested in your website or products and thus decides to quit.
Introducing an exit-intent popup takes less than 5 minutes of your time but can manage to do wonders for your business and help you recover hundreds of dollars of sale.
5. Build a full-screen Call-To-Action
To grab more attention, use a full-screen call-to-action on your website. This would be like a full-screen welcome gate for your prospects and guests who visit your website. This strategy will make your CTAs more attractive and let your visitors remember you and connect with your brand. Ensure that these CTAs are optimized for mobiles and tablets and are well-responsive as most of the web traffic today comes through mobile devices.
6. Add Content Upgrades
A content upgrade is a type of a lead magnet, an opt-in created specifically for a particular blog or an article. These are unique to the specific content that people are already reading on your site or are interested in. Content-Upgrades thus is an add-on to the users related to the content they are reading. It is recommended to add content upgrades at the bottom of your blog post. Not to forget that the content upgrade should be easily downloadable for the user so that this maintains the interest of the user in the content that you publish.
7. Create a Quiz
Quizzes are gaining a lot of popularity these days but if you are creating them to capture leads, they must be implemented rightly. You need to create a short and simple quiz with unique questions regarding your industry or niche. The quiz can be funny as then it has higher chances of user-engagement.
Many of the visitors tend to participate in the quiz with the urge to test their knowledge, compare themselves with associates in their niche and evaluate where they rank among their peers. You can strategize the placement of the quiz in a way that it first captures the email address of the visitor with a view in their mind to get the results published at this address. Not only this, if the quiz appears to be a worthwhile experience, the lead would likely share it on his social media handle, thus extending its reach and your business simultaneously.
Conclusion
If you have been walking this road for a long time, hitting your head hard but still not able to see fruitful results, try and implement these effective tactics to capture leads, help grow your business and take it to new horizons. These tips will change everything for you… So don't let your competitors be ahead in the game and take this slice of success far away from your reach…!!!