Blog - Know the Ideal Length of All Online Content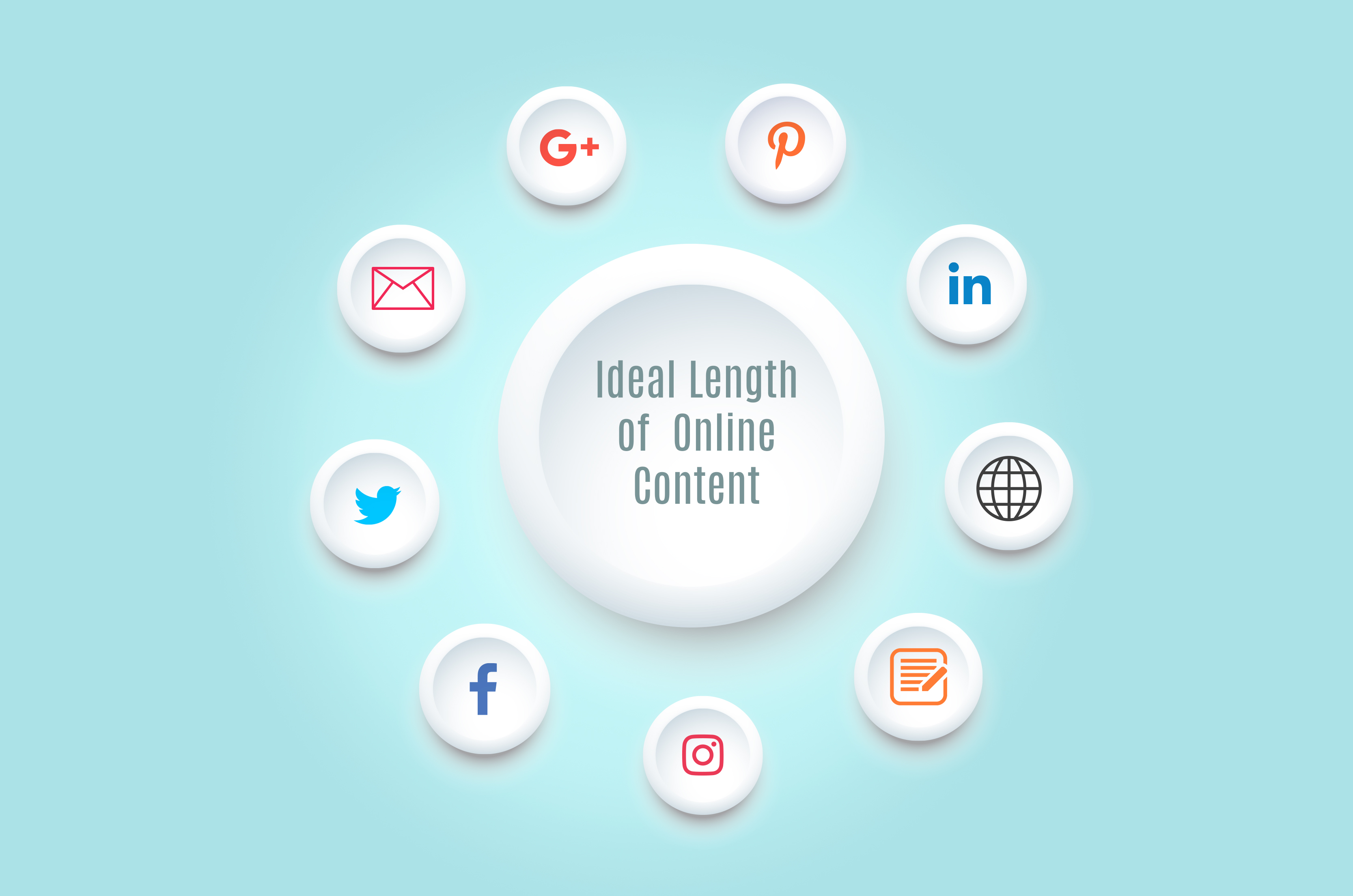 Content is the king!
Everyone is aware of the above-stated fact, but the question is –if the marketers are really focusing well enough on content optimization?
While the content writers try really hard to create amazing content to grab the eyeballs of their readers but are they aware of how much content should be written and published for different platforms like blogs, tweets, social media posts, emails, etc.
Generally, the content writers find it really hard to determine the exact length when producing content online. They are mostly seen searching answers to important questions like how much will the readers read, what is the optimum length of a blog post, what is the ideal length of a headline, etc.
The point is that there is no limit to the creativity of a writer, but following the guidelines can just save you from the clutter. It will ensure that your posts are seen by the majority of people and result in enhanced user engagement.
Ideal Length of Content Online
A. SEO Oriented Content
1. Blog
The ideal length of a blog post is 1,600 words approximately. Based on the average reading speed of a human, this would be read for about 7 minutes. Theoretically, it has been found that longer posts provide an idea of the quality and topic of the content better, but again this depends on the blog content. There are short posts also which receive great feedback and appreciation from the readers.
Every reader sustains a different behavior and mind-state while reading content online. Thus, you can never stick to a fixed length; a little variation here and there is acceptable. Remember – Good content performs well regardless of the number of words it contains!
3. Title Tag
The title tag is the title which is seen on the SE results page. It defines your web page and thus should be optimized with the appropriate keywords for better results. Not only should a title tag be eye-catchy for the searches but should also be of appropriate length. The optimum length of a title tag is 55 characters after which it gets truncated with ellipses (…). So keep it short and make it attractive to influence click-through.
3. Domain Name
Length always has a correlation with acclaim. A good and ideal domain name should be short, recommended for about 8 characters and should be easily spelled. Also, avoid the use of hyphens or numbers in the domain name.
4. Headline/ Caption
For content writers, it is challenging to producing a nailing header to make your content get top-listed and ranked on Search Engines. That is when it will be more read and praised by the readers. Writing content is difficult, but getting it the correct exposure is far more challenging.
The headline is the first thing which a reader notices in your content, thus seeking reader's attention becomes crucial here. For an ideal headline, it is recommended to keep the headline in a single line and should be limited to 6 words, not more. A reader will mostly pay attention to the first 3 words of your headline, so rock it and make every word count.
B. Social Media Content
1. Facebook Post
While you post content on Facebook, you are competing with thousands of brands across the world to seek attention. Posting too short content has a risk of being ignored and making it too heavy may become monotonous for your readers. Thus, deciding the sweet point of the length of a Facebook post is often tricky. The ideal length of a Facebook post should be somewhere between 40 – 60 characters as it gets higher user engagement. Thus, it is advisable to keep it concise.
2. Tweet
Though the length of the tweet has increased from 140 to 280 characters recently (only for some users – who tweet in different languages), yet it is suggested to limit the size of the tweet to 80-100 characters. This is the medium range of tweet length and the most optimum as then it would allow the person re-tweeting your posts to add some additional comments if he wishes to! Providing this space can add to a more number of re-tweets and extended exposure.
3. Instagram Captions
To optimize user engagement through Instagram, it is advisable to cut short the length of your Instagram story captions up to 150 characters. The key reason to keep it that short is that Instagram focuses on visuals rather than content. Hence, the captions are provided just for a clear context about the subject. For understanding the story, visuals are the best medium.
4. LinkedIn post
LinkedIn which dominates the professional social network on the Web has posts generally with a headline and a link to an article. It is recommended that the headlines to these posts should not exceed 150 characters.
5. Google+ Post
Google+ has a highly engaged audience and Google is one of the most powerful search engines on the Web. Thus you should be more vigilant about what you post here. The ideal length of the headline of a Google+ post is 55-60 characters and, for the post body, it is approximately 350-400 characters.
C. Email Subject Line
The sweet spot of opening an email (mostly talking about promotional and advertising emails) is higher with a subject line of 28-39 characters. If a subject line is too small, it often is considered as spam and the emails with more number of characters generally turn off the users.
D. Presentation
The ideal length of a presentation is 18 minutes and there is a physiological reason attached to this number. The new information should be processed by the brain and this requires a high amount of oxygen and glucose because the neurons in the brain burn energy while doing this. This energy loss leads to exhaustion and fatigue.
Thus, keeping it under the 18-minute mark is important to make your presentation count.
Conclusion
Content writing can become simplified if the above insights are taken care off. They can also play a significant role in your online marketing strategies. These are no rules to be followed in your marketing game but if these simple guidelines are followed, you can rule over online content.