Blog - E-Commerce Websites: Paving pathway to a Global Marketing Revolution!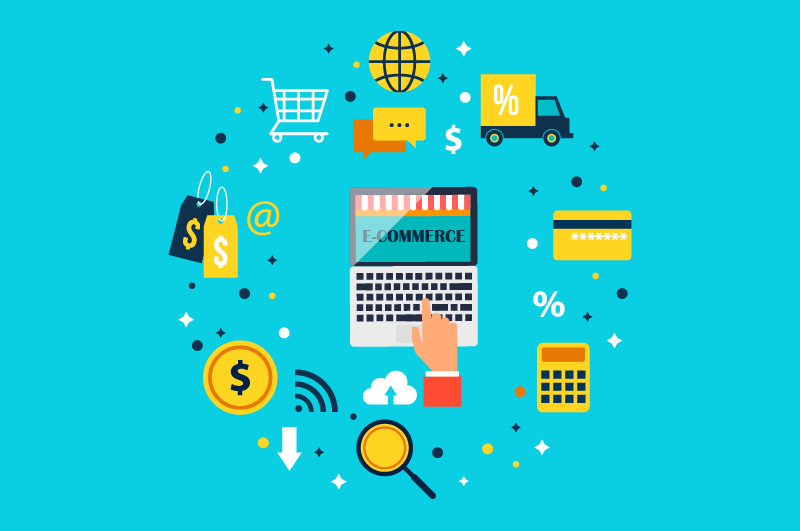 E-Commerce Websites have created a buzz in the online marketing world leading to an expansion in the global market.  E-Commerce has been in trend since many years and still counting. Thanks to the tremendous success that it has offered the economists, marketers, sellers and the buyers.  E-Commerce has provided an effective way of delivering the benefits of a Supply Chain module by providing a convenient integration of the Procurement, Inventory, Sales, Marketing, Accounts and Delivery modules.
Well, E-Com Websites have positively impacted our economic future and it will continue to flood the global markets in future. With E-commerce growing rapidly, all sectors, mainly online shopping, travel and tours, health and hygiene, food, etc. have experienced huge profits. It has primarily brought convenience to the consumers as it has become the most simple and easy way of getting stuffs delivered at their doorstep, that too just in a simple CLICK!
Let's discuss in detail how E-commerce websites have become more advantageous for the customers recently.
 1. Time & Money Saver
Customers need not waste time in traffic, buzzing horns to get to their favourite mall to buy the latest merchandise. Neither, do they have to bargain for price at small stores or outlets, waste their time and energy on petty things. Many shopping websites also provide promotional vouchers offering huge discounts which make their shopping cost effective thereby developing a new mind-set that shopping stuff online is not only time saver but also money saver. Kudos!!
2. Wide range of options and offers
The power of click can create wonders, when it comes to shopping online! Customers can choose from wider range of products, research and compare prices among the sellers and finally opt for the best choice which gets delivered at their doorstep. Ting Tong – Your order is here!!
Some websites even provide flexibility to customers by offering "TRY and BUY" scheme. This results into 100% customer satisfaction and happiness.
3. Detailed Product Description
Another important aspect of E-Com websites is that they offer very descriptive and apt information about the products that they offer. Even the big store staffs fail to provide that level of descriptive information to customers when asked for. It not only provides a detailed description about the product but also shows the how other customers have reviewed the product you are willing to buy.
4. Tracking orders at any time
 A customer can track his order using the unique order Id provided by his merchant to know well in advance when his order will be delivered.  He doesn't have to worry about his order status and spend time & effort calling the support to check for it.
5. Rising Up high on the Market Leader Board
 With increasing competition in E-com sector, everyone is going back and forth to be on top at the leader board. The top leading companies in turn offer new and varied options to customers. Some travel companies offer exclusive discounts on Pre-bookings, others provide the option of no-cost cancellations. Few others offer extra cash-back on bookings through mobile app. This in-turn becomes profitable for both the parties – buyers and sellers. Marketers and sellers earn huge profits as they generate huge traffic on their websites and apps by such offers, on the other hand buyers avail these offers at discounted prices, thus leading to pocket friendly vacations and excursions.
6. Promotes Digitization
Worry no longer for cash retrieval or stand in long queue at ATM's and Banks! E-commerce uses the concept of Electronic Data Interchange (EDI) where the transactions are carried out in a completely secure manner without any risks or theft. Transacting online is 100% safe and secure. Buying and selling products digitally without any involvement of cash is a major setback to our world going digital. E-com websites provide various options of payments like Credit Card, Debit Card, Internet banking, and payments through different electronic wallets. They also provide the option of CoD (Cash on Delivery) for customers who are not keen or willing to offer payments digitally.
7. Affiliate attractions
E-Commerce websites are also a huge attraction for the affiliates where they work as an intermediate channel between the customers and the owners. An affiliate will purchase a product and sell it further in order to gain profits and huge commissions depending on the number of customers they attract & products they sell. In this way, the affiliates and sellers both get benefited and incur huge profits in their business.
To wrap up, E-commerce websites are a boon for promoting our products globally. We just need to understand and implement the strategies effectively, and we can get our profits going HIGH!!!