Blog - Conversion Rate Optimization: Are you Moving Ahead with the Right Strategy?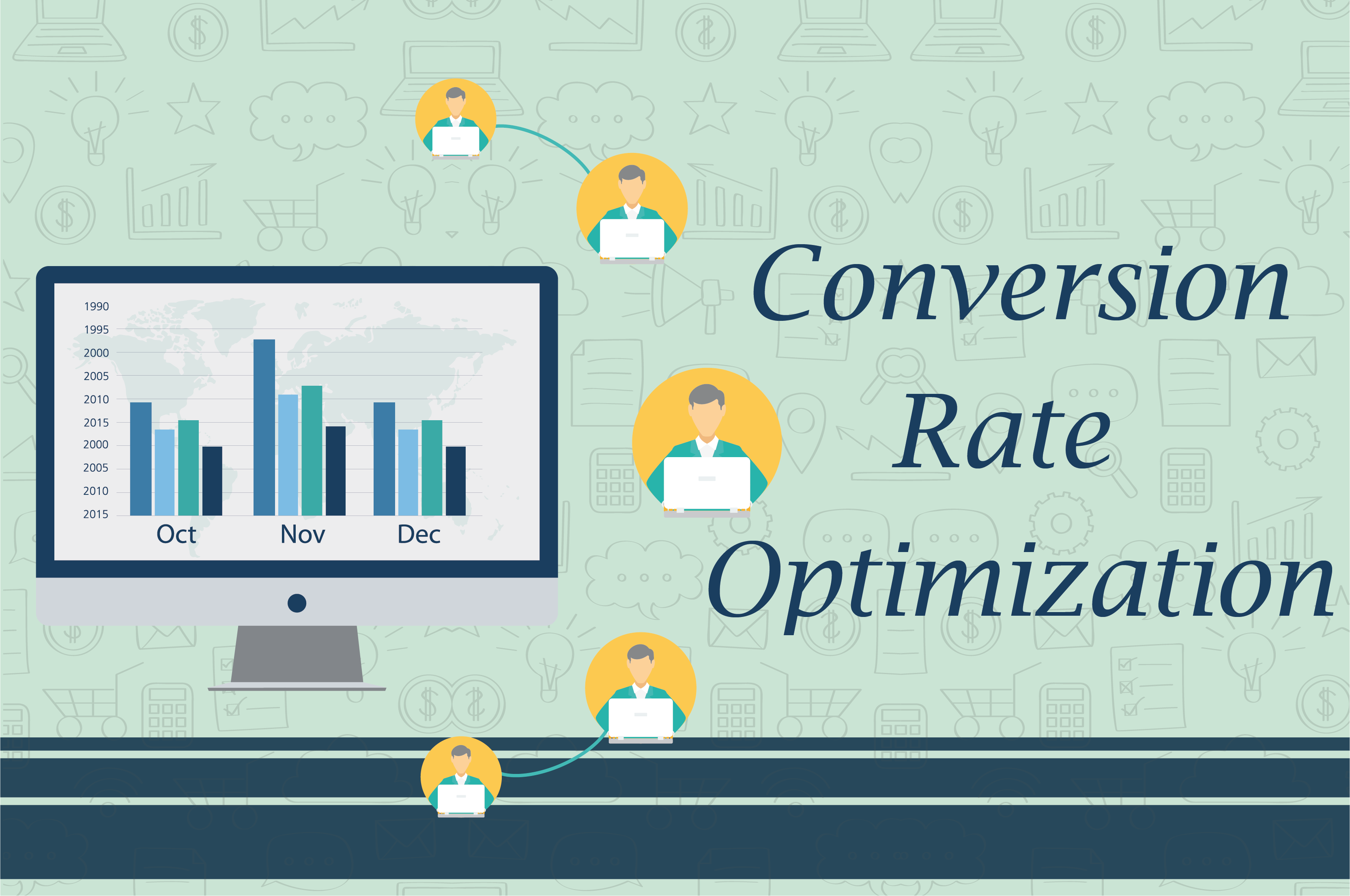 Conversion Rate Optimization(CRO)  is the systematic process of increasing the visitors on your website who intend to take an action like buying your product, signing up for your newsletters, and eventually turn out to become your customers. CRO is the technique to improve the performance of your website by improving various metrics, also referred to as KPI's – Key Performance indicators in business.
Conversions are classified into two main categories – Macro and Micro Conversions. Macro conversions include bigger site goals like purchasing a product after visiting a website, requesting a price quotation, or subscribing to an offer or a service. Micro conversions include smaller site goals like creating an account, shortlisting a product and saving it for later, adding a product to wish-list or cart, or signing up for email lists. The former emphasizes on the user making a purchase, and the latter stresses on basic conversions before completing the macro conversion goal of purchasing a product.
Conversion Rate: A Brief Overview
To make it simple, Conversion Rate is the number of times a user becomes your customer by purchasing your products when he visits your website. Nowadays, the websites are designed in such a way that maximum visitors get converted into customers. A major portion of conversions occurs on the website landing page and the blogs. And CRO entails optimizing these conversions.
The Optimization only happens after a visit is made to a website. So only when you're sales and marketing teams attracts enough visitors and have the capability of converting them into a customer, think about Optimization.
Why does your Business Need Conversion Rate Optimization (CRO)?
Well, there are plenty of reasons why you should implement CRO in your business; a few of them are listed below-
1. Increases the number of Customers
Once you start optimizing your website and online store, you tend to know the interests of your customers and hence, you start working in the right direction to improve your website performance. The better the user experience; more are the chances of increasing your customers from the amount of traffic you are already receiving. So basically, using CRO you can streamline your existing store and its traffic, thereby converting your website visitors into a customer, without paying any additional cost.
2. Increases Website Profits
CRO provides immediate results unlike other marketing strategies like advertisements where a share of your profit goes to the advertisers as well. With CRO doubling up your profits, the complete money goes into your pockets and not to your marketers that too by leveraging the power of the existing traffic and customers of your website. It is one of the most significant advantages of CRO.
3. Improves Your Brand Recognition
Conversion Rate Optimization does not mean generating traffic – rather it deals with much more important part i.e. converting your website visitors into customers. And for that to happen, it is very important that you build enough support and trust with your customers. The trust is spontaneously built if your website is verified and listed and looks legitimate. Online shoppers are more concerned about the genuineness of your products and do not like to tolerate any security breaches.
Thus, as your website improvement process happens with CRO, it glorifies your brands and thus encourages customers to make a purchase.
4. Improves SE Ranking
Search Engines send traffic to your website if you deliver products what the users are searching for! With an improved website experience, it is more likely that users visit your site, feel good about the products you offer and purchase them. This will boost your SE rankings and thereby generate more leads and customers.
5. Provides you an edge over the competition
The more visitors you convert, the more you are upsetting your competitors. Another fact – the more visitors you fail to convert, more are the numbers of conversions on your competitor's website.
So, if you practice CRO, you are basically pulling away from your potential customers from your competitors. And if you are still not ready to practice it, then probably your competitors will take away your potential customers and increase their conversions. So hurry up, before it's too late.
6. Boosts Affiliate Marketing on your website
Once your sales and profits rise with CRO, more people tend to notice your brand and the services your business offers. These include the business affiliates and big company owners too who become keen to collaborate with you. The affiliates promote your products to their followers and customers thereby earning commissions through them. Even big investors have their eyeballs on you, who want to invest their money in your business and to accelerate it.
Conversion Rate: Techniques to Adopt for Optimization
If you are really focussing on improving the conversion rates for your website, there are a few best practices that you can follow:
1. Use Text-based Call-To-Action Buttons within Blogs
A blog holds no importance to users if it skips the Call-To-Action (CTA) feature within it. A text-based CTA button is bound to attract more leads than a regular one. A regular CTA generally contributes to only 6% of the leads whereas 50% more leads are generated from the text CTA's, which clearly depicts its significance.
2. Perform A/B Testing
This comes with more of a research than testing. With A/B testing, you can split your traffic into two groups. The Group A will see a different form of your website than Group B. You will apply different designing features on both the groups like different CTA buttons, button colors, headlines, and basically a totally different website design. Then check and compare the conversion rates of both the groups to know which one is converting better.
The key to the A/B testing is, start with changing one feature at a time to see which attribute is causing the difference. For example, start with changing a headline tag on group B and see if it causes the difference. If you change the placement of 3-4 attributes simultaneously and get lucky to gain better conversions, you will not be able to locate what made the difference!
3. Reduce Fields on your Forms
A visitor is bound to get disgusted to fill in more than necessary fields on the Sign-up forms. So, try to eliminate the unnecessary fields on your forms like their organization name, zip code, etc. The fewer fields a form contains, the more likely it is bound to get filled and submitted.
4. Insert your Pricing CTAs above the fold
Whereas it is always recommended to A/B test your marketing tactics, shifting your pricing Call-To-Actions above the fold can boost your conversions. You can use multiple CTAs if your webpage is lengthy to chunk it up into different folds. But never place your CTA in a cluttered area as it can get missed by your visitors.
5. Skip Image Carousels
Facts prove that image carousels or automatic image sliders are conversion killers, and should never be used in view of increasing your conversions. The reason is that it becomes really difficult for the users to hastily read content on the first slider before it jumps on to the next one. They are not good for your website's usability and hence should always be avoided.
And, if you are still willing to use these carousels on your website, let your users control the slide-show. Provide them play and pause buttons and keep the rotations manual instead of automatic. They will enable them to look at the images as per their convenience.
6. Keep your CTA content informative
Call-To-Actions play a lead role in improving conversions. Thus, use the CTA button text such that it informs the users about what's next on their page after clicking the button. For example, using a text like "Sign-Up and Get Started "depicts more information that merely writing "Sign-Up". From a visitor's perspective, the latter is more descriptive and leads to better conversions.
7. Add the mystical word "FREE"
The word "FREE" has the potential to increase your conversions by 28%. Yes, it's true! It has improved conversions for many websites. The word "FREE" has the power to grab customer's attention as nobody wants to miss out on any offer especially when it is FREE! Just add it to your Call-To-Action and see the difference yourself.
8. Introduce a Live Chat Feature
A proactive chat is always preferable over Emails for seeking support. It is an effective strategy which has worked well for many businesses. Introducing this feature to your website improves conversions as your visitors get proactive resolutions to their queries instead of waiting a couple of hours to receive a reply from customer support, which sometimes even has chances of getting skipped.
9. Use Videos on your Websites
Videos are the very sensational to improve your conversions and are much liked by the customers too. Adding videos to your landing pages can lift your conversions by up to 95%. They help your visitors to get the look and feel of a product, unlike the static images. Ensure that the videos you choose are descriptive about your product's working and are of approximately 2-3minutes duration. Lengthy videos or tutorials are often ignored by visitors, so try to keep them short and concise.
10. Provide Early-bird or limited-time offers
Early bird Offers can also boost your conversions by more than 50%. Offering a limited-time deal gives your customers a reason to take an immediate action and buy your products rather than considering them to buy after few days. You can even display information like "Only 3 more items left in stock" on your products to convert your visitors into customers instantly. Such details create an urgency to buy your products.
Closure
Generating revenue is primary and most significant for your business. Increasing conversions is the next! If you can control and convert the visitors to your website, you can quickly improvise your sales and increase your revenue. That too, just by optimizing the existing resources (like website traffic).
There is more to this, many practices and strategies to unfold but ultimately there is only one thing – know what your customers respond to and what drives profits for your business – And just get started!!!