Blog - Collaborate and Communicate with Google Hangouts!!!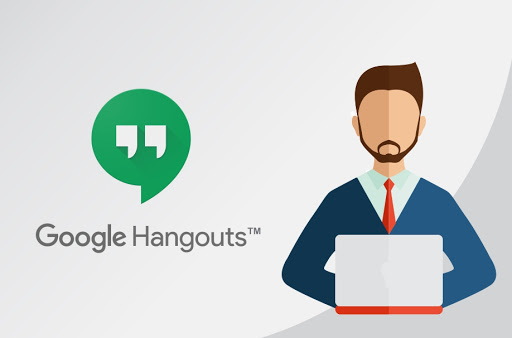 Google Hangouts is an interaction and communication service platform developed by Google. It facilitates many useful and important features like instant messaging, video calling, SMS and VOIP [Voice Over Internet Protocol].  Google Hangouts has replaced Google Talk, also referred to as Gtalk, Google + messenger and Hangouts of Google +, which offered chat, voice calling and video-conferencing features respectively.
Google Hangouts allows conversations between two or more users which can be accessed through Gmail or Google + apps or even websites. Hangouts apps are also available for both Android and iOS platforms to provide ease of use. Users can even store and save their chat history, and sync it up across various devices which they use to access Hangouts.
Let us have a quick check on the exclusive features it offers:
Using Hangouts, you can share photos during conversations which are automatically uploaded to a private Google + album. This is helpful in case they miss some important old data and are unable to locate it in their chats.
Group video chat option is also available with Google Hangouts. Initially, this connected up to 10 users at one time, but 2 years back, Hangouts was upgraded to facilitate the HD video chats with up to 25 users for paid accounts.
Google Hangouts Android application 4.4 and higher versions are integrated with the text messengers through which the users send or receive text messages. Not only this, the users also get the GIF support and a new-location sharing button, thereby facilitating the users to send their GPS location to anybody in their contact lists.
The latest iOS app of Google Hangouts integrates the Google Voice option with its chat features, but the same is not yet applicable to the Android version of the app.
Google Hangouts focuses on group chatting and conferencing through direct interactions unlike the one-on-one video chats. Not only this, it uses the latest technology to consistently switch the focus to the person currently chatting.
Potential of Google Hangouts: Business Perspective
FEATHER ON THE CAP!!! Hangout isn't for work distractions anymore – Yeah, you read that correctly. Many large enterprises use Hangouts for meetings or to enable collaboration among remote team members. The reason is that Hangouts has literally tied up quite a few of its services together into a business-level package to support today's required workplace alliance.
1. Chatting or Texting
Google Hangouts is powerful to collaborate up to 150 participants in the group chats and thus send and receive messages, images, and any other content. It is also integrated with Google Voice to send and receive SMS text.
2. Voice Calling or VOIP
Hangouts can be leveraged to dial free calls to other users using Hangouts and even USA numbers, hence receiving calls with Google Voice. It is a cost-effective approach to make a call overseas without spending a penny on it. All you need is a good internet connection.
3. Video Calling & Conferencing
Businesses can also leverage the option of collaborating with their partners or co-workers through Videoconferencing by making free video calls and connecting together with up to 10 participants. If they have a paid Hangouts account, they can even connect with 25 participants together over a single Video call. This is extremely beneficial for holding meetings when information is required to be shared with audience working remotely.
4. Webcasting
Webcasting is termed as the process of broadcasting your video content live over the Web. It operates in real-time and leverages active interactions between the webcaster, or the broadcaster and the viewers. Now is this something really important from a business perspective, especially when you are facing difficulties in marketing your products and services. Google Hangouts allows users to webcast their content on YouTube and Google +. As both YouTube and Google + are powerful platforms to publicize your business and promote your brand, you can utilize Hangouts to conduct video meetings and conferences in order to promote your brand and business globally.
5. Mobile Friendly
You can even manage your Hangouts chats, calls and video chats on your smartphones by leveraging the power of its mobile applications which are available for both Android and iOS platforms. You can simultaneously manage your chats and conversations across multiple devices as the conversations get synced across all the devices which you use, thus making it easier for users to access or view their latest conversation as and when required.
6. Record and save it for later
Not only can you webcast video content using Hangouts but even record them for editing and customizing them. These videos and content can be later used in your presentations or video blogging. Not only this, you can capture screenshots out of these videos and later on use them as images for your articles, blogs, and slide-decks whenever required.
Conclusion
Nearly, 82% of the world's population is using Gmail as their mailing platform which increases the possibility of using Hangouts for interacting with users, partners, and co-workers. The flexibility of using Hangouts across different devices, browsers and operating systems is a major reason to consider it for video conferencing, calling and instant messaging over similar applications. Due to its user-friendly interface, it has evolved as a popular web conferencing platform. So why not utilize this as a platform to collaborate in your business?