Blog - Build a Loyal Customer Base to Gear up your E-Commerce Brand !!!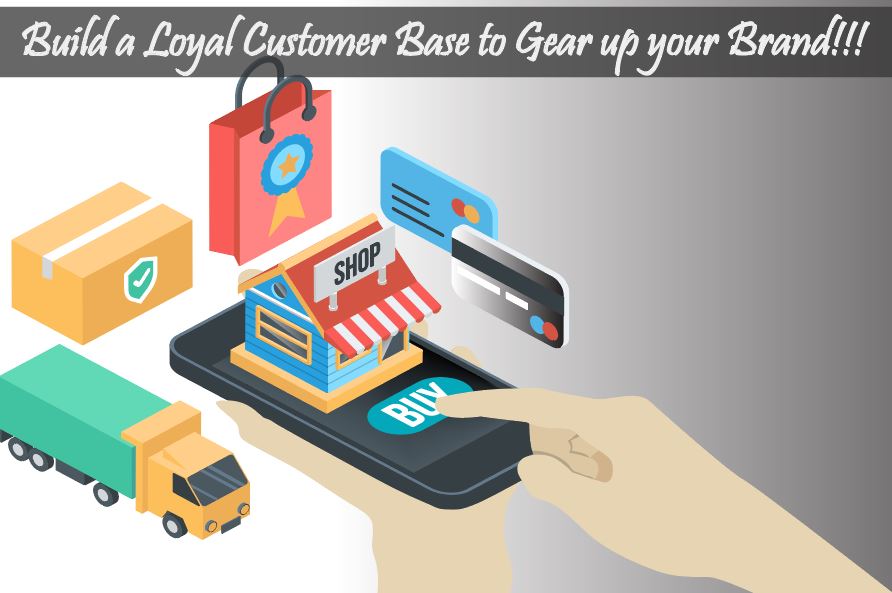 With the continuous expansion of e-commerce, it is becoming difficult to maintain customer loyalty so that your customers are retained and your competitors don't snatch them away from you. The success of any brand or business depends on its customer loyalty programme which isn't easy to procure. The increasing competition of brands along with the new digital marketing experiences pitching in, brands need to bring their attention to satisfying customer needs not leaving any stone unturned to make them happy.
Maintaining a strong and loyal customer base has become challenging today because of the variety of e-commerce options available in every niche. If a customer buys from you and is not happy with your products, or the after sale services that you provide, then he is likely to escape and never return. He would prefer exploring and choosing other options to meet his expectations.
To avoid such situations which can be risky for your brand and business, we have brought few techniques with which you can maintain your customer base and secure your online business:
1. Try and Buy
The e-commerce brands are now recognizing the 'try and buy' concept of business which minimizes the risks of doing business online. Though e-commerce has been consistently growing over time, yet there are people who still doubt the genuineness of the products sold online, and thus express uncertainty in transacting online.
The 'try and buy' model creates a sense of confidence and builds trust among the customers, thus making them a loyal customer for your business.
2. Deliver what you Promise
Research says that a high percentage of customers, more than 80% stick to an e-commerce website or a brand due to the product quality it offers. Customers do not intend to compromise on the product quality in any way and thus see a major risk in buying from others.
Product image is the driving factor for a customer to buy from you, and hence, it becomes really important to deliver what is shown in the images. This makes it important to draw a line between showing highly captivating product images and posting a real product image. Overdoing on your product images which are far away from the real product is bound to be risky for your brand's reputation. While, if you deliver what is promised to a customer can enhance his experience, thus creating a concrete pathway for his next purchase.
3. Attract customers with a warmly welcome email
Every brand is targeting towards creating a personalized experience for a user. But this shouldn't be limited to greeting them with their names or showcasing the product images of their interests. You need to do something different to tempt your customers. For example, you can send out a warm email to welcome your customer expressing your gratitude for choosing you over others. Or, you can even encourage visitors to subscribe or register with you by offering them exclusive first-time discounts on buying from you. Pop-ups showing the discounts and offers can be a great idea to start with.
These tactics or some other ideas on similar lines can be helpful to build a long-term relationship with your customers.
4. Send a survey to seek feedback for improvement
Every brand should strive to keep their customers engaged even after a product is bought and delivered. Brands need to realize the potential of after sale services by consistently engaging with them even after the purchase.
One of the easiest ways to do this is to seek customer reviews and feedback after the delivery of the product. This not only enhances customer relationship but also provides a greater scope for improvement. Also, it makes a customer feel happy that you still care for them and that their feedback is valuable to you.
5. Have an Easy-to-Reach Customer Support
More than 80% of the customers do not ever return to a website if they experience a below-average customer support. Customer retention rate is always seen to depend on the customer service support of your business.
Having a live chat feature has always been a brownie point for an online business. If not, make sure that you still manage to provide a 24*7 support to your customers. This helps in providing a great user experience by resolving their issues and answering their queries well in time thus making them happy to be a part of your brand, and not regretting it.
Conclusion
Retaining existing customers is equally important as attracting new ones. And it's high time that businesses expand their vision to understand this thumb rule. In fact, more than 60% of the future ventures arise from the existing customers. The success of online stores and e-commerce websites strictly depends on how they value the customers who further add value to their business.