Blog - Boost User Engagement with Push Notifications!!!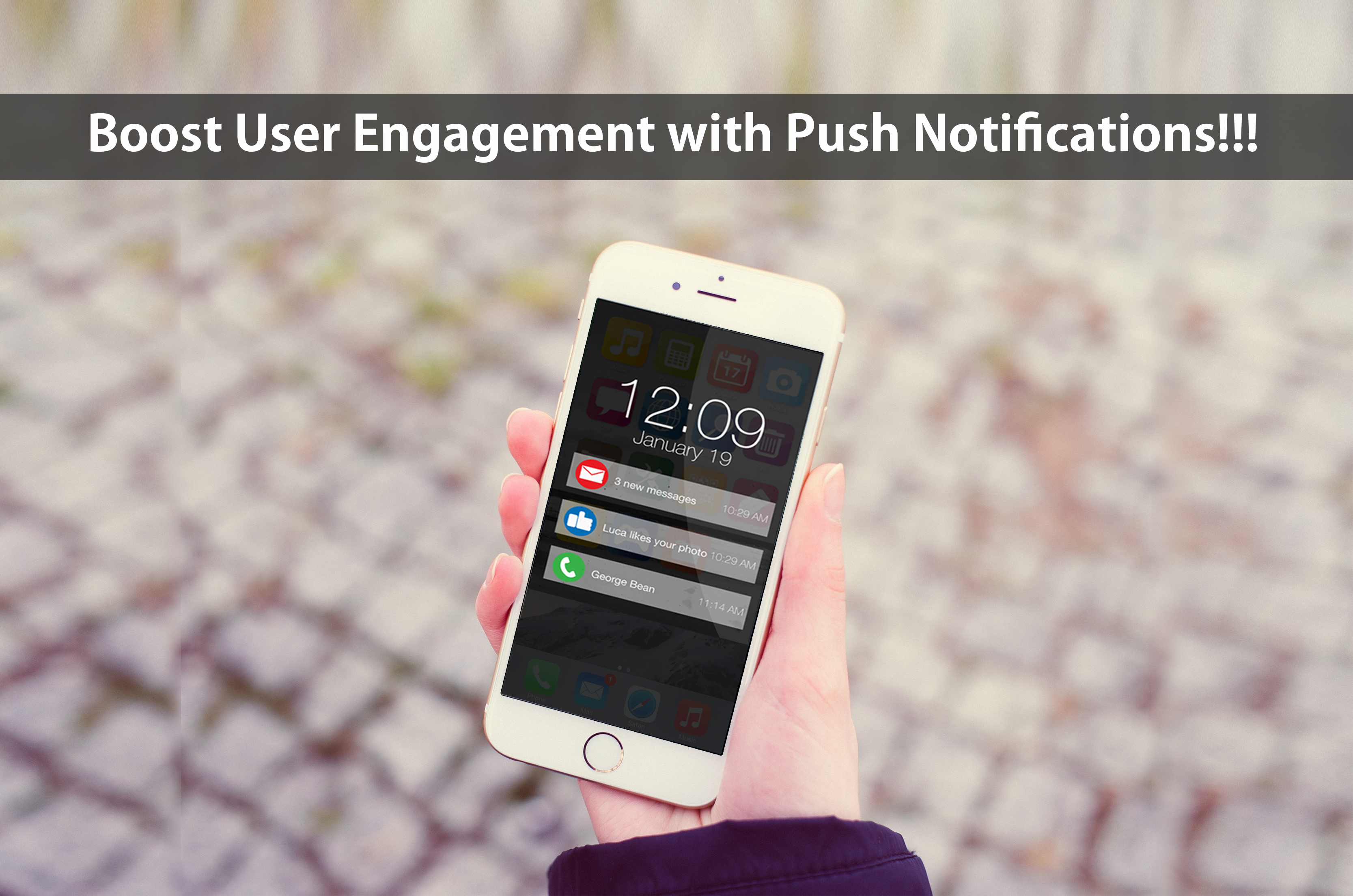 Push notification is a mobile application feature to notify users about anything without actually opening the app. With the increasing mobile users for accessing the Internet, the prevalence of push notifications has emerged as another significant communication channel to get their message clear. They are an excellent way to broadcast message to your target audience. According to a study, more than 52% of mobile users have the feature of push notifications enabled on their devices. This way, a notification is 'pushed' to a user without the need to do anything.
Push notifications have several forms. Sometimes they appear like a text message sliding to your mobile screen while sometimes it appears like a red circle with the number of messages/events appearing to the top of the app icon, mostly on the fly-out menu icon. These days, the majority of the apps ask user permission to send push notifications because they need to be extra cautious about user's interest and choices. Businesses cannot afford to upset the user by sending notifications when they aren't needed as they can turn off the user.
How can Push Notifications benefit your Business?
1. Enhance User Engagement and Build Brand Reputation
By delivering the valued message and quality information through push notifications, you tend to gain customer trust and build your brand reputation. This would engage more users, and give you more business by increasing conversions.  
2. Directs users to Social Media Channels
You can easily leverage the power of push notifications to direct users to your social media channels. For example, if you are planning to go Live on Facebook at 9 PM tonight where you are launching a new product and promoting it, the push notification can be a reminder alert to the subscribers on your channel to see you live. This would help direct more users to your channel and get you more customers.
3. Exclusive Promotion of Products
Push notifications can also be used to release exclusive discount offer, coupon codes or vouchers to give additional discounts to your valued customers. This would attract more users to your app and give you qualified traffic.
4. Restore Abandoned Carts of eCommerce Applications
Again, push notifications can be another aid for e-commerce applications. When your user has been active on your app for some time but did not purchase your product yet, you can notify and remind him of what he is missing by not buying from you. This would serve as a reminder alert that he left things in his cart and did not buy them. For some users, this may come out as a stunt of building a healthy relationship and they may reconsider your product.
Best Practices to follow while Using Push Notifications
 1. Set limits for Messaging
Set a defined number of messages that a user can receive during a particular week or month. Ensure that your push notification plan does not crash or backfire you by irritating your users. Optimum user engagement should be your goal and thus over-engagement should be avoided. Too many messages in the same context can be bad for your marketing experience.
2. Check on the frequency of notifying
Remember that the frequency of releasing push notifications doesn't work on 'one size fits all' tactic.
There has to be a clear and well-defined plan about how frequent you should send out notifications to your users. For example, the apps related to travel or shopping have a greater scope of offers, latest updates, exclusive deals etc. So the number of notifications, in this case, is usually more than apps related to healthcare or insurance because the latter is not used daily. So there is no need of sending out daily notifications as it may frustrate the user and can show your brand in a negative light.
3. Be creative
Choose the correct time to send out push notifications to your users. Avoid sending them during 5-8 pm because that it the time when people return to their home after work. The best recommended time to send app notifications is between 11-1 pm in the afternoon and 9-11pm during the night because it is the time when a user mostly accesses his phone.
4. Make it worth their while
Ensure that the content that you send in your notification adds real value to the users. It should be relevant and worth their time. Your message should deliver valuable and useful information to the users.
5. Perform A/B Testing
A/B testing is really important before and after you go live with any change in code or your marketing strategy. It helps you to understand what is working and what isn't. Depending on the outcome you can build your strategies and implement your marketing plans.
Conclusion
Push notifications are a follow up to user's app download and usage. It is a tested and proven methodology to keep users engaged in your app and get business from them. They are vital to keeping the users engaged with the app who download it and prove to be loyal app users. So, leverage this facility to skyrocket your business to the next level…