Blog - Attain Infinite Exposure for your Business with Amazon!!!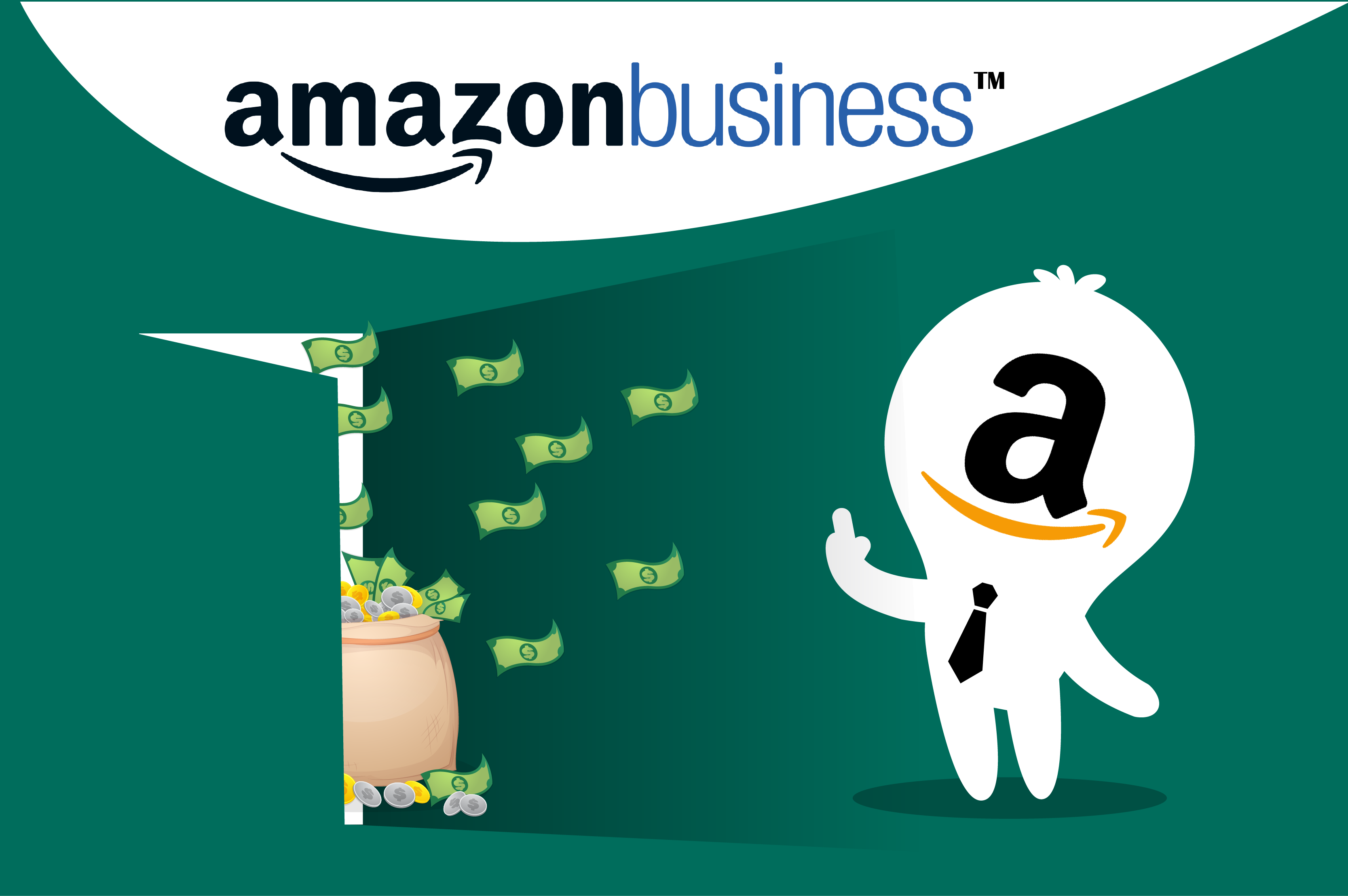 Amazon Business offers purchasing solutions to enable the registered businesses for business supplies through Amazon. A user holding an Amazon-business account can buy on Amazon.com on the behalf of his organization or the company he works for. Amazon provides businesses for any and every organization irrespective of the size of the company.
Amazon Business provides a variety of benefits and opportunities to its users which aren't available to a regular user connected to Amazon. Not only more discounts and offers, but an Amazon business account offers better conveniences to users through its seamless and ideal services. Depending on the need of the business, the admin of the account can manage business-account features like adding payment options, modifying shipping addresses, user accounts, work-flow approvals and much more.
Amazon which is widely used by millions of people across the globe is an easy and convenient platform for you to market your products and grow your business through E-commerce. With Amazon, products reach a customer's doorstep effortlessly, without any hassle. It simplifies the selling and buying process thereby digging the ground for a seamless business over the power of a simple click.
How can Amazon expand your Business?
Well, shoppers widely use Amazon for purchasing items which are offered at discounted prices here. But apart from that, how Amazon is benefiting your business?  =
1. Affiliate Marketing with Amazon Associates
Amazon provides an exclusive Associates program for Affiliate Marketing which allows businesses to create links, and earn referral incomes whenever a customer clicks and buys products through Amazon. This program is easy to join without paying any fee. When a customer buys a product via your referral you earn 10% of the amount as your referral fees.
Amazon has a wide network of affiliates who may promote and refer your products by displaying ads on their own websites, blogs or social media platforms. This would establish your presence in the online market and boost up your sales.
2. Bulk discounts and Benefits
There are certain offers provided by Amazon tagged as 'business-only pricing' where major discounts are provided. These usually come up while buying quantity products on purchasing higher-volume products or on a selected quantity of items.
Amazon not only gives an option to customers to view the price-break details on the multi-unit purchases but also allows the users to view offers from various groups of sellers, the product variety each seller offers and compare the prices before making a purchase.
3. Special Tax Exemption for business customers
There is a special Amazon Tax Exemption Program, ATEP which caters the business customers to apply their tax-exemption status to few eligible purchases done through Amazon.com LLC, Amazon Web Services LLC and other participating independent third-party sellers. These tax exemptions can be set up by the Administrators managing Amazon business accounts. ATEP creates unique certificates for every seller that you purchase a product from. A certificate should be activated by you in order for ATEP to issue a tax-exemption certificate. Sellers receive a certificate for each order placed by the users.
4. Platform for all types of Businesses
Amazon supports business for all types of organizations – big or small. There is no limitation on the size of the organization, even a single person can buy or sell on Amazon. Amazon provides solutions; you implement them to make it work for your organization.
5. Faster Shipping for Business Accounts
Using Amazon Business Account, you can also enjoy the benefits of Business Prime Shipping. Amazon provides two-day shipping on eligible items which comes with unlimited and free services. There is an option of Prime shipping for business accounts with an annual monthly membership fee which varies depending on the number of users. For example, you need to pay $499 for prime shipping for up to 10 users.
Apart from the above, the Amazon prime account can be linked to the business accounts that too without paying any additional price. A prime membership with Amazon qualifies you for exclusive deals during big launches or extravaganza. Amazon even opens early deals for users holding prime business accounts.
6. Payment Methods
With Amazon, you can choose the payment method which works best for you; it can be a credit line or the shared payment mode. The corporate credit lines offer expanded user options authorizing multiple buyers on a single account and let them download reports related to their order history and enable them to pay by purchase order. You can even share your payment methods, including your company's purchasing card with anyone you wish to – a bunch of few users or your entire team.
Both the individual and share payment methods would be managed by your business account's administrator through the 'Manage your business link' option.
7. Immense variety of Business Products to Offer
Amazon stands out from its competitors because of the vast variety of products it offers. You can literally find anything and everything on Amazon – irrespective of the field of your business. Exclusive to businesses, Amazon has a large variety of products to offer. From the world of Technology to Gaming, Construction to Owning a restaurant, Amazon provides a huge range of fields to offer businesses and more than a million products to offer.
8. Multi-User Accounts and Approval Workflows
A single Amazon account can be linked to multiple users thereby connecting your team and creating purchasing groups to match your organization structure. With Amazon business account, you can create approval workflows and customize your order approvals. You can even set spending limits on your account and manage your organization's purchasing on Amazon. This would help you gain an insight into how your business is spending on Amazon.
9. Monitor Spending by your Organisation using Amazon Analytics
With the Analytics feature of Amazon Business, you can easily track and monitor where your organization is spending. There is a dashboard option to analyze these statistics based on the month-wise breakup. This helps you to gain an insight into what your organization is buying. Using this feature, you can create or download custom reports to match your organization's needs.
The Analytics tool can be used and accessed by both the administrators of your business accounts and the requesters. The Administrators can track their spending based on the group, product categories, users and other factors based on which the sales & profits can be analyzed. On the dashboard, you can use adjustable templates with a combination of filters and column selectors to specifically visualize data depending on the category you want to choose, example, you can filter on the Year to see data pertaining to the orders, returns or refunds particularly for that specific year. These features help you to give an overview of how your organization has been performing and analyze the loopholes, which need improvement.
10. Do Repeat Business Without Marketing
Amazon has already built a wide customer base which no other E-commerce website can ever match. And so, if your business exists on Amazon, you do not need to spend dollars on advertising or marketing yourself in the market. You need to focus on providing quality products to your customers so that they think about you again in future and buy again from you. And yes, it's a proven fact that sellers at Amazon do get repeated customers due to the great quality they offer and the exceptional customer service and support which is offered to its customers. And, the icing on the cake – you do not need to invest extra effort and money into advertising your products. What better it can get?
11. No Hassles for Packing and Shipping your Orders
Amazon provides easy and convenient services for sellers who don't want to take the extra load of packing and shipping orders onto their shoulders. Amazon itself handles all the storage, packing and shipping services through its FBA– Fulfilment by Amazon policy. Specific to the Prime customers, Amazon provides free shipping services. FBA policy also streamlines international export undertakings, returns, and other customer services. These type of services save additional time and effort spent by sellers in getting their products packed and shipped.
12. Offers Voluntary Referrals
Amazon uses strong algorithms at the back-end to ensure that both sellers and customers are benefitted at both ends. It lets customers see a list of recommendations of products when on the website which could catch the attention of any user who does not even know about your business.
Not only this, Amazon has a wide network of affiliates who may promote and refer your products by displaying ads on their own websites, blogs or social media platforms. This would establish your presence in the online market and boost up your sales.
Conclusion
Amazon already has built a marketplace which no other online store can match. And the business with Amazon is the best decision you can take for your company's growth and expansion. Amazon business works best when you have bulk products to purchase for your business. It has a huge potential for sales due to its market goodwill which can be leveraged for your business to bloom and blossom.