Blog - Aggrandize the Power of Landing Pages to Foster your Growth!!!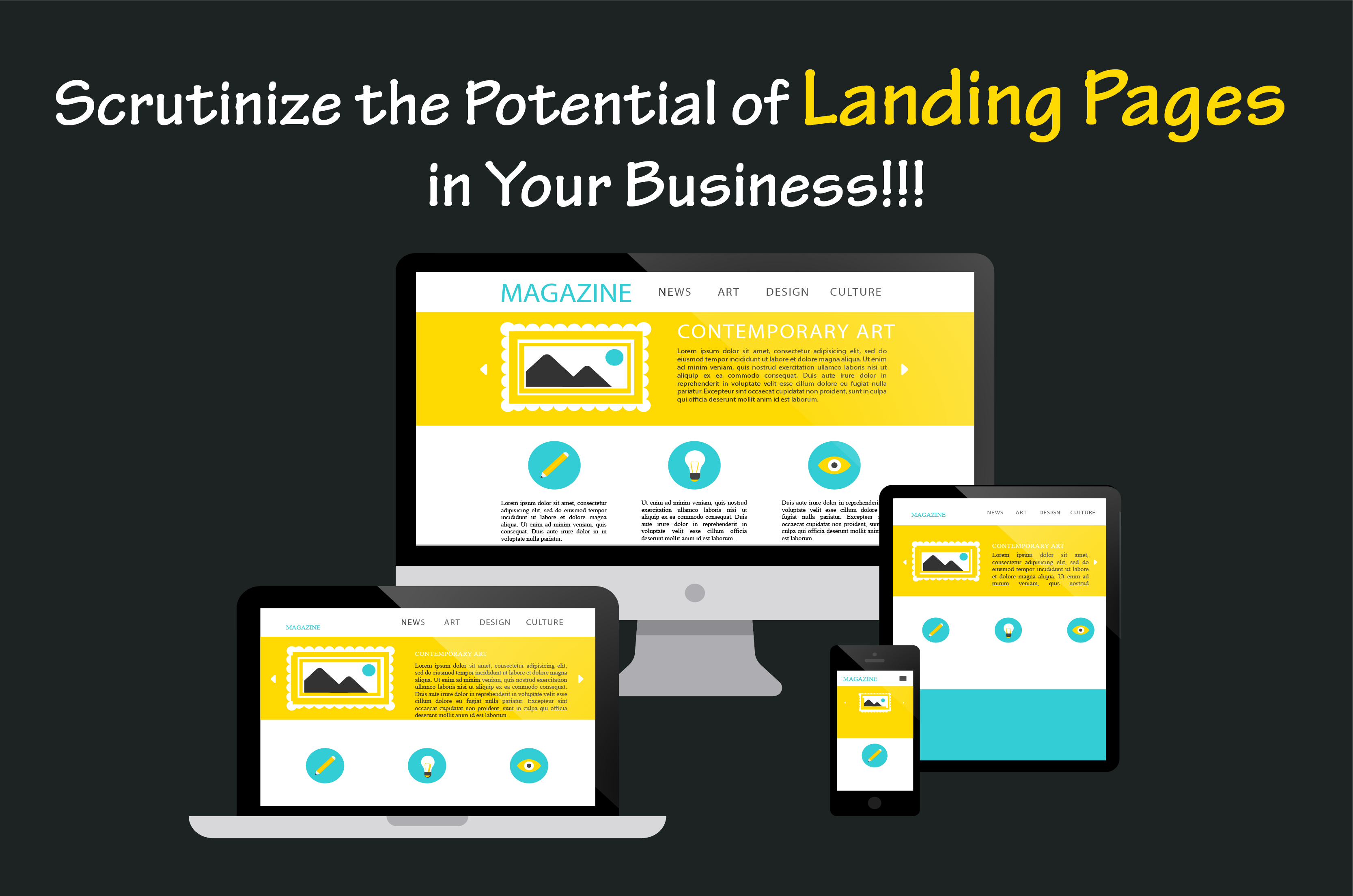 A landing page is the entry point of any website, basically an important section of a website where a user arrives at.  It is generally here that you capture a visitor's information through a lead form. A lead form is a simple form capturing basic fields about a visitor like his name, email address and contact details, etc. An effective landing page helps a business grow by converting a high number of visitors into leads, which can eventually convert into customers.
Talking about landing pages in the realm of online marketing, we can define that it is a stand-alone entity – a webpage distinct from your main website which can help you convert better leads and customers. A good landing page will target only qualified traffic from a particular audience like visitors who get directed to your website through Pay-per-Click ads, or through your blog, etc.
Why is Landing Page Critical?
Every company promotes its business through keen and efficient marketing skills like PPC ads, email marketing, mobile marketing, affiliate programmes, even social media which directs a huge traffic to a website's homepage which is a landing page. And this can be a huge opportunity to convert website visitors into leads. So, if you already know that a qualified traffic would be directed to your website, you can definitely try to enhance the possibility of converting this traffic using a good landing page.
After arriving on your landing page, it is up to you to define the next action which you want your visitors to take. From signing up to your lead forms to navigating to your product purchase panels, your landing page can make it easier for the visitors to complete their action.
Categories of Landing Pages
Landing Pages can be classified into two main categories: Click-through pages and Lead Generation Pages.
1. Click-through Landing Pages
Click-through pages, as the name suggests influences the visitor to click and navigate to another page. This is a technique to get a visitor to a point where he is pretty close to taking an action. Next to the click-through landing page is generally the registration page or the shopping cart, where maximum conversions occur.
2. Lead Generation Landing Pages
Lead generation landing pages enable you to capture user's information like name, email address, contact details, etc. The only purpose of this is to gather user information to connect with for your future prospects. A lead-Gen page consists of a sign-up form comprising of necessary fields for the user to fill in and receive significant information as a result of the submission of the form. This information can be anything – a free gift, an ebook or a gift voucher to be redeemed during first purchase, sometimes even a free trial of any product.
How to Enhance your Website Landing Page?
There are a few elements which need to be noted if you are planning to start creating a landing page, or if you are willing to improve the efficiency of an existing one.
1. Take a hold of the website navigation elements!
This is important to note because you have already managed to get traffic to your website by getting enough visitors to your landing page. Now the next step is to limit the number of exits from your landing page. You should now set the focus only on users and urge them to take the desired action like filling a form to capture a lead or prompt them to make a purchase. For better conversions, it is always recommended to cover your website navigation elements on your landing pages. This will not distract or turn off your visitors and their focus will be retained on to the next step.
2. Put your page simple to Deliver Value!
The primary agenda of your business should be to offer and add value to the customers. And the products, services or offers that your business provides should be compelling enough for the audience to make a purchase or to take an action. As the landing page is the entry point of your online business, hence it is very important that your landing page bespeaks that value that you are trying to offer.
3. Make them Flexible for Modifications!
The landing pages should always have the flexibility to incorporate modifications. These modifications can be structural and UI based both. Hence, the code should be written keeping in view the modification strategies for the overall optimization of your business.
4. Test more for better Results!
No matter how great results you achieve, there is always a scope for improvement. It is no different in case of landing pages. Make sure you perform regular A/B tests on your landing pages to understand and know what is working best for your business.
5. Add share buttons to publicize!
Don't forget to add sharing options on your landing pages which let your users spread your content across their social media handles or blogs, with their friends and colleagues. This will let your website get more views and traffic without any extra cost or advertising fee. The more shares you get, the higher are chances of conversions.
How can Landing Pages magnify your Business?
1. Increases conversions
A landing page defines a clear goal for users to respond to your business and make a decision to take an action. This is termed as "Call-to-Action" i.e. CTA. It is with the power of your landing page that you can influence a user to take a decision, favorable or unfavorable. With a CTA, you will see more of action taken with an ultimate goal to increase your conversions and give you more business. More business means more money.
2. Expands your Email Lists
Landing Pages serve an effective purpose to generate leads, by enabling users to fill forms and help the businesses to get contact details of users interested in their business or products. This helps to grow their emails lists and increase the number of potential customers. By filling the opt-in forms on landing pages, the businesses promise to provide their users the latest newsletter, the announcements regarding their new launches, or promotional details via emails. This helps the businesses to be on the top of their customer's mind and allure them to generate more business.
3. Help in Tracking and Analysing Performance
Linking your landing page to a specific marketing campaign helps businesses to analyze which channels and campaigns are generating more leads and are performing well. These statistics provide an insight into user's behavior and help in improving the effectiveness of your business by understanding your customer's interests, their demographic information based on which the offers can be rolled out to visitors visiting your website next time. It also provides an insight into your bounce rates and the number of exits on the landing page. Monitoring such information can help you track your results and grow better.
4. Enhances Brand Reputation
Integrating important elements like customer appreciations or testimonials, achievements, awards or any other recognition to your landing pages can visualize you in a brighter light among the visitors. These prove to be powerful agents and convince customers to do business with you and help you serve them better. It helps you to improve your brand reputation and strengthens their trust and bond.
Conclusion
Undoubtedly, having optimized and catchy landing pages play a very significant role in your overall marketing campaigns. The end goal of any business is growing and making more money, and solidifying the landing page experience helps in achieving this goal by generating more leads, and converting more visitors. Landing pages are the soul of a marketer's lead generation efforts and hence they should be utilized in the best possible way.