Blog - Foster Targeted Traffic on Social Media to Procure Immense Profits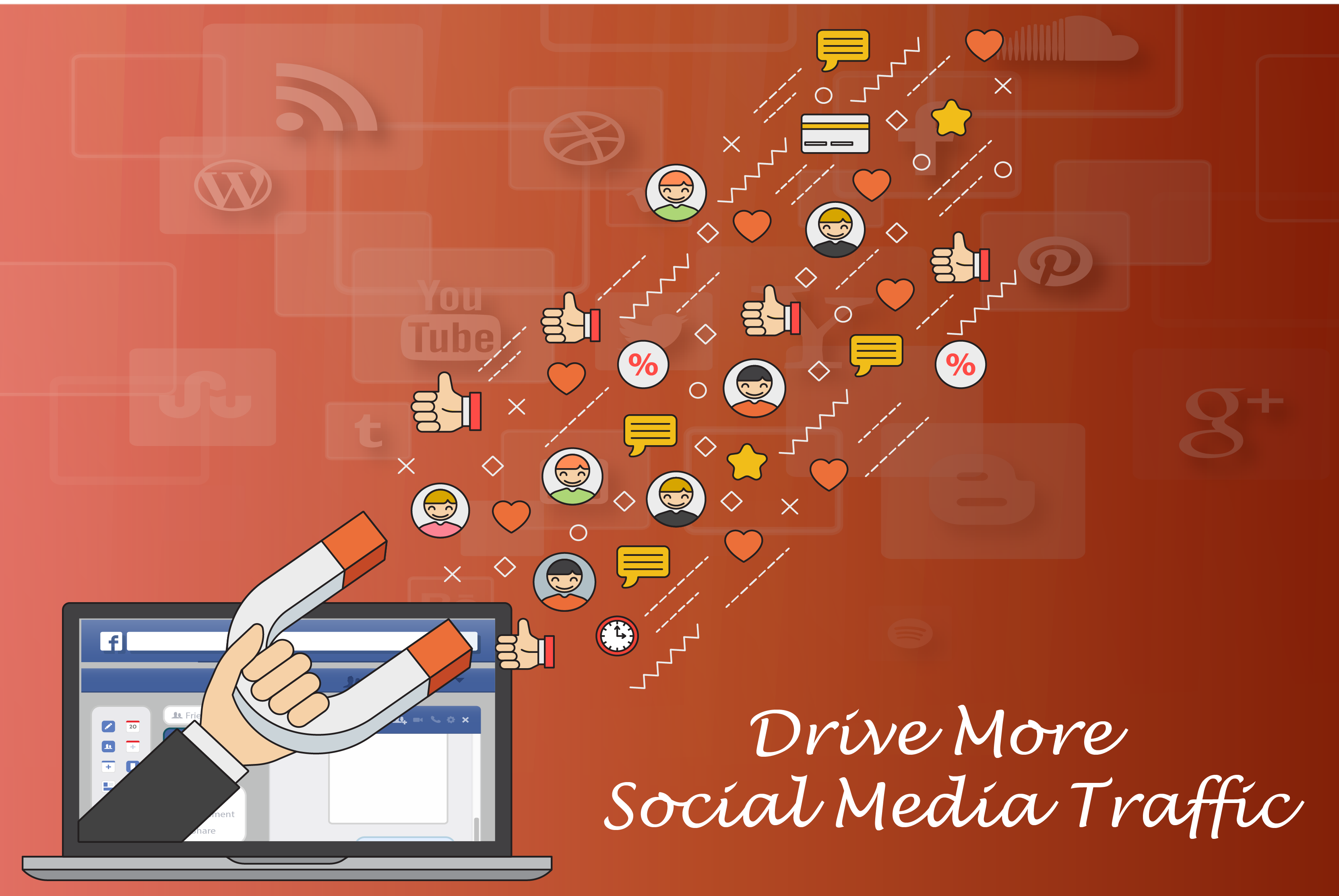 Internet traffic, which is determined by the number of visitors on your website, has drawn attention of many entrepreneurs lately. Entrepreneurs and marketers consider it to be a money making magnet. Engaging people through social media channels can be quite significant especially for businesses falling short on their promotion budgets.
Social media has the potential to drive a major spring of traffic to your website. But building a huge presence on social media is totally up to you, how you do it! Wider is your presence; higher is the probability of getting social media traffic on your website. The amount of traffic that you tend to attract from social media space depends on how efficiently you manage your social media handle.
Social media is among the top three traffic sources. It generates huge income especially for bloggers who get more visibility on their blogs via social media. Social Media traffic happens to increase when you build customer relationships effectively and engage your audience by providing regular updates and information about the products and services you offer.
Social media traffic is the ultimate key to conversions. Reason – If your website is not evoking customers, then probably it is bound to get lost in the vast ocean of internet marketing. You can never uplift your sales and earn better profits if you are not alluring customers to your website. Your business will not sustain in the pool of digital marketing without driving steady traffic to your website.
Here are few tactics by which you can get your social media traffic rolling:
1. Influence your audience with visual effects
Social media posts incorporating effective imagery or videos create far better user engagement than ordinary text-driven posts. Visuals provide assurance to a customer about his purchasing decisions. In fact, viewing a product demo right before making a decision enforces them to buy your product more likely. Instagram has the highest user engagement when compared to other social media networks, so if you rule over Instagram, you can get your traffic rolling better.
2. Examine important prospects relevant to your target audience
Analysis and Examination plays an important aspect in targeting your audience at the right moment. Inspect various prospects of your audiences, like their interests based on the posts they share or content they like, the time they spend on social media, or how often they comment on various posts, etc. This would help you get a better idea about what exactly your customers are interested in and likely to purchase from you.
3. Insert links in your blog posts
Posting links at valuable places like your blogs, ads, newsletters, opt-ins etc. is an efficient way to generate traffic. Whenever you add new blogs or articles to your website, ensure that you share them on social media along with a short summary about what you are offering to your customers. This will encourage your audience to click on the link and get redirected to your website. More traffic will drive more revenue and take your businesses to a new height.
4. Widen your approach with Hash tags
Hash tags help to grow your traffic on your website by making your updates or posts more recognizable. It is always advisable to use 1-2 hash tags per post which drives in more traffic and conversions. Not to forget, higher number of hash tags can even turn off people from taking interest in your post. So be careful while following this approach!
5. Include Social Media share buttons
By providing social media buttons in your post or blog, you give a facility to users to share posts anywhere they want to. This popularizes your business among social media platforms as more users will be able to see the products you offer. This in turn brings in more traffic on your website, leading to more revenue generation. Also, it will build your brand reputation when people will take a glance at your products and recommend it to others.
6. Append Social Media Ads
Social media ads are always targeted to generate traffic on your website leading to more conversions. This is why Facebook Ads has gained lot of popularity recently. If you target the right audience through these ads, you can engage more visitors on your website and boost your sales high. Social Media Ads also helps to engage your customers by remarketing a product that was previously not purchased by the customer. This is a marketing strategy which works quite effectively in most of the cases.
So, fundamentally, to generate more revenue, you need to generate qualified traffic to your website. Traffic from targeted users will eventually generate qualified sales leads and will convert better. It also helps to increase your website ranking and publicizes your branding.
Act immediately to earn more and become a popular brand today!!!