Blog - Bring Infographics into Play and Take the Marketing World by Storm!!!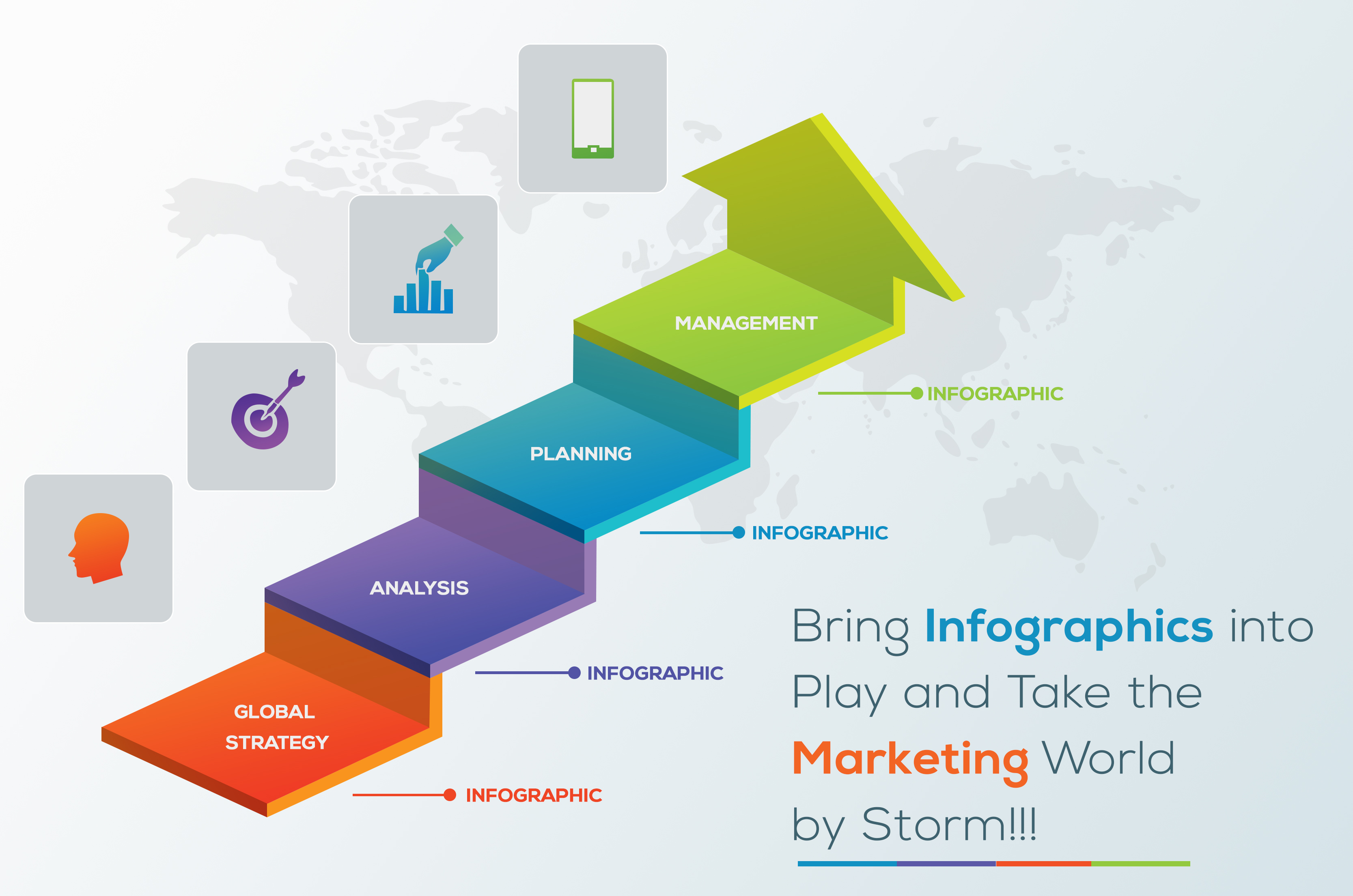 Infographics aren't just about data representation charts, graphs or flow-charts, but they are any form of visuals which are useful, entertaining and shareable with others. They play a significant role in Content marketing because a user does not just need quality text but also attractive graphics that draw his attention. In fact, Infographics is a great way to see important and valuable data in easy to read (and understandable) format.
With the growing competition in grabbing eyeballs on the Web, it takes more than just creative words to establish recognition and get enhanced business or traffic. And infographics have the right potential to tell a story at just taking a quick glance. Here's why-
1. Text Repurposing becomes Easy across Different Platforms
Infographics are easy to share on multiple platforms due to its extended reach and accessibility, and this is one of the reasons why marketers prefer Infographics than plain text content.
Not only this, infographics can even stand-alone on your page in the context of a blog post, or can be used to boost your article by displaying information through the power of different visuals.
A very prominent example to narrate this– if you write out the figures or statistics as text on your blog page, it wouldn't seem much captivating to a user, but if you offer this information using infographics, compelling is easy or you can say it's guaranteed.
2. They are the top performing category of visual content
Marketers are willing to spend more than 40% of their marketing budget on infographics because they are still performing well. In fact, they are listed in the top performing category of visual content when compared to others. Infographics have been performing exceptionally well since last few years and still counting.
3. Easy to make your content go Viral
Infographics are sacred to every brand because they have the element of getting viral. If you can get your infographic to go viral, then you're already winning the game.
The facts suggest that infographics are easy to share on social media platforms like Pinterest, Instagram, Twitter, Facebook, etc. because as soon as a viewer finds it interesting, he instantly shares it across with the power of a click.
4. SEO loves Infographics
Visuals like infographics are the most preferred content for SEO. Google loves infographics due to its easy approach and understanding which showcases you an expert in the field. Just ensure that the content you portray through the graphs and charts is unique and well-researched from reliable sources and studies.
5. It's a great linkable asset
Infographics are a real good linkable asset. The traits of a good linkable asset are that they should be visually compelling for the viewers so as to seek their attention and at the same time provide useful information to them. This provokes the audience to share them on their social media accounts and also their websites and blogs.
Infographics due to the above features, high-in-demand and realistic information providing feature fall into the bucket of the great linkable asset.
6. Target visitors stay longer with Infographics
Infographics have the power not only to attract the inbound links but also increase the stick time of the visitors, making them stay longer thus consuming a lot of your content.
This concept is also related to SEO. The higher the stick rates more are the chances of search engines understanding your content as a useful and promising piece of information.
There are plenty of graphic designing tools and software available that make the infographic creation easy even for people who lack good experience in designing. Also, there are a plenty of websites which offer free infographic designs that can be used on your blogs, articles, websites, etc. after making a couple of edits like adding relevant text, removing the website name, etc.
Take my word for it- Infographics can create wonders for you if used appropriately after sufficient research.